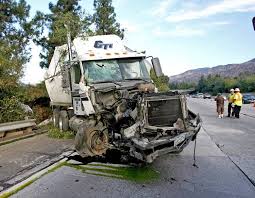 A Paragon Foods tractor trailer crashed in a construction zone on I-376 near Carnegie, Pennsylvania (PA) yesterday. This made it the latest of several trucks that have wrecked in that zone in the last few months.
Pennsylvania State Police warned motorists to pay close attention if they drive through that area. This is particularly pertinent advice for big rigs, because the lanes narrow considerably.  According to a Pennsylvania Department of Transportation spokesman, the crash occurred in the inbound lanes near the Carnegie exit. The tractor trailer smashed into a barrier on the shoulder, taking out about 30 feet of the barrier. Fortunately, there were no injuries in the crash.
Our legal firm frequently works on cases involving tractor trailer accidents in Virginia, and we know that tractor trailers can be particularly dangerous in construction areas. Highway work zone accidents have killed more than 4700 people in the last five years. We also had a case in North Carolina in 2011 where a truck stopped in a construction zone, leading to a serious rear end collision with a car.
In another case we are aware of, a trucker in Florida killed two people in a 2001 Infiniti when the truck driver did not slow down in a construction zone. Eighteen wheelers and lack of attention to safety in work zones can be deadly. 
But clearly, big rig safety is of paramount importance in construction zones, and we admonish truckers to take extra caution in these dangerous areas, and we advise car and SUV drivers to be extra vigilant when slowing for construction zones, and to keep a watch in your rear view mirrors for approaching truckers.  Another safety tip is to flip on your vehicle flashers as you approach such areas, to warn oncoming tractor trailer operators of the need to slow.