One of the most common causes of tractor-trailer accidents is truck driver fatigue and that is exactly what caused an accident Tuesday morning on Interstate 295 in eastern Henrico. The driver of the truck fell asleep as he was exiting the highway and lost control of the truck. He quickly realized what had happened, but overcorrected the vehicle, causing it to overturn.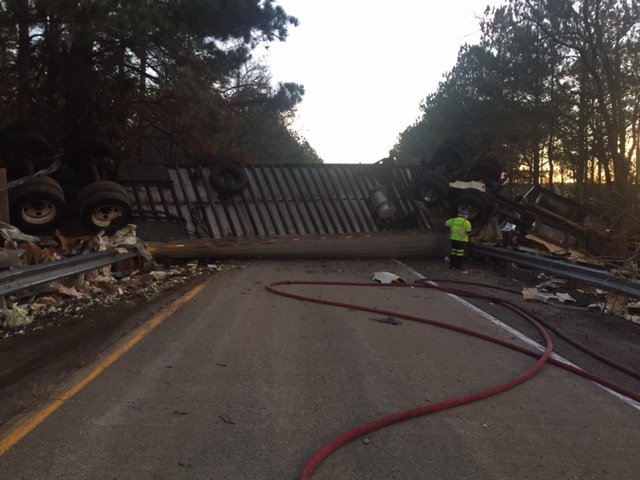 Thankfully, there were no other vehicles around the tractor-trailer when it flipped over, avoiding what could have been horrific results.
The resulting mess left by the truck crash caused a shutdown of the ramp for several hours as authorities cleaned up the 34,000 pounds of frozen chicken the truck was hauling that ended up spewed all over the crash site.
Authorities were concerned about a possible explosion from fuel in the tractor-trailer and contractors were called in to pump out all the fuel before the truck was split in half and towed away in two separate pieces.
The driver has been cited for reckless driving.
Truck Driver Fatigue
According to national studies, truck driver fatigue is one of the most common causes of tractor-trailer accidents. About 65 percent of all truck crashes happen on long-haul truck trips when drivers are often driving for at least 10 to 11 hours a day. Although there are federal and state limits to how many hours a driver can be behind the wheel, many drivers actually work even longer, with another two to three hours taken up by loading and unloading the truck, maintenance, or filling out paperwork.
At least one in four truckers have admitted to falling asleep at the wheel during the prior 30 days. Most drivers only get between five to six hours of sleep per night, despite sleep and health experts telling us that adults need between 7 to 9 uninterrupted sleep every night. That lack of sleep ends up catching up with drivers – resulting in the type of crash this truck driver had. Driving drowsy is as dangerous as driving drunk and the results can be just as tragic.
Contact a Virginia Accident Attorney
If you or a loved one has been injured in a truck accident, contact a Virginia truck accident attorney to discuss what legal recourse you may have against the responsible party or parties. Our Virginia injury law firm covers trucking cases in Richmond and all other areas of Virginia. Our legal team has successfully advocated for many truck accident victims and their families and we understand how complex these cases can be. Our attorneys are available to meet and discuss the details of your case and how we may be able to help.
For more information about truck accidents in Virginia, please download our free guide.