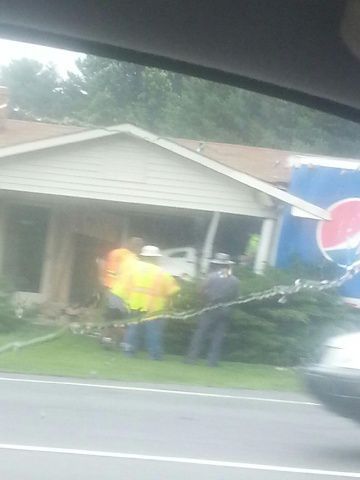 It's summer time and it's hot.  Just like in the commercials, a delivery of refreshing cold soda would really hit the spot for most people.  In Carroll County, Virginia (VA) a Pepsi truck made an unscheduled delivery as it smashed into the corner of a house.  The truck accident happened near the intersection of Route 58 (Carrolton Pike) and Route 888 (Midway Heights).
The truck went off the right side of the road and through three yards before crashing into the corner of the home. Lucky the homeowner was at work and there were no children in the yards when the accident happened.
The truck driver has been charged with reckless driving and failure to maintain control of a vehicle.
It Only Takes a Second for a Truck Driver to Become Distracted
Most commercial truck drivers are dedicated, hardworking people that put safety first. However it only takes a second for a truck driver to become distracted from a cell phone or other means of driving distractions such as eating, for a routine drive to become a fatal accident.  Many commercial truck accidents are fatal due to the sheer size and mass of the truck compared to passenger vehicles.  This can also make for traumatic and serious injuries for survivors.
Handling a Commercial Truck Accident
Handling a commercial truck accident can also be difficult as sometimes the driver, truck and trailer are insured by different companies.  Some trucking companies also retain defense attorneys that will deny victims their proper compensation for injuries.  Our experienced Virginia truck accident injury attorneys have a history of dealing with commercial trucking companies and have obtained settlements for injured clients including a 3.5 million dollar settlement to a truck accident victim who lost his life.  A commercial driver in a tractor-trailer rear ended a passenger vehicle on Interstate 64 (I-64) in Norfolk, Virginia (VA). Our client was a passenger in a car driven by a friend who was driving slowly after a tire problem. The two vehicles caught on fire. Our client, a 25-year-old man, was trapped in the passenger vehicle and lost his life.
CT