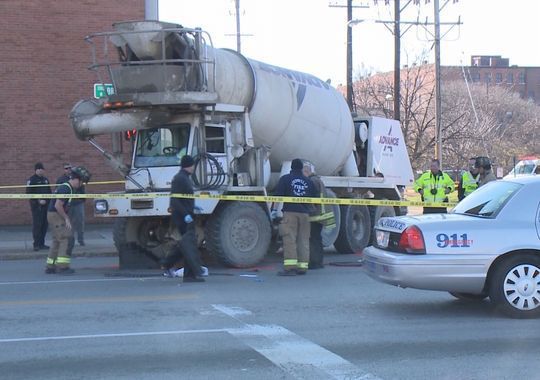 Some people say lightening never strikes twice.  However in Louisville, KY there have been two different fatal accidents in the last six months that involved an Advance Ready Mix concrete truck and pedestrians.  The latest truck accident occurred when a concrete truck failed to yield the right of way and hit two women in a crosswalk at 12th and Broadway. One woman received serious injuries after being trapped underneath the truck.  Her death was not quick, she underwent six surgeries and had to even have her leg amputated after the accident, but even then doctors couldn't fix all the problems. She started having breathing problems and ten days after the accident she died.
This terrible truck accident comes nearly six months to the day after a 24-year-old woman was struck and killed by another Advance Ready Mix concrete truck while crossing the street.  As Virginia (VA) truck accident injury attorneys we know the law and how regular car accidents are much different than accidents involving a commercial truck.  There are many parts that are the same, but evidence law applying to interstate trucking is vastly more complicated. 
The tragedy of the women's deaths is a grim reminder that any car or truck crash that involves pedestrians usually ends with serious or fatal injuries.  In one of our personal injury cases involving a pedestrian, our client suffered a broken leg when hit by a car in a cross walk. Our Virginia personal injury legal team settled that personal injury case for $27,000.
A determination hasn't been made yet as to why the cement truck driver didn't yield to the pedestrians but it is important that all truck companies and drivers operate their vehicles in a safe manner. They need to be inspected regularly, maintained to government requirements, and the drivers should always be well rested and not distracted while driving.
CT