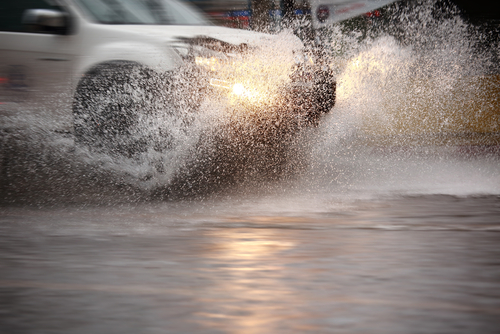 Two people were killed in Gaston County when the vehicle they were in hydroplaned off the right side of the road and slammed into a tree. The fatal accident occurred on Thanksgiving morning, at approximately 7:30 a.m. on Highway 321 near Hardin Road.
The initial investigation by N.C. Highway Patrol indicates that rainy weather, along with the condition of the vehicle's rear tires, may have caused the vehicle to hydroplane. Both victims were pronounced dead at the scene.
Hydroplaning occurs when water on the surface of the road in front of a vehicle gathers quicker than the vehicle's tires can push it out of the way. The pressure from the water makes the vehicle elevate and slide on top of the layer of water, preventing the tires from coming into direct contact and keeping traction with the road. When this happens, the driver can lose control of the vehicle and crash.
Many drivers are unaware that hydroplaning can occur even if there isn't a lot of water on the road. The most frequent times that hydroplaning happens is within the first 10 minutes rain starts falling and mixes with any oil residue that has built up on the surface of the road. This is why hydroplaning can happen even if it is only lightly raining.
If you are driving and your vehicle begins to hydroplane, knowing what to do can help prevent a crash:
Do not slam on the brakes. In fact, do not use the brakes at all since that may cause a sudden loss of control.
Instead of the brakes, simply release the accelerator to allow the vehicle to gradually lose speed on its own.
Make small steering corrections if you are drifting, but do everything you can to just keep going straight forward. Sharper steering wheel movements can cause your vehicle to swerve into another lane. Remember, you're gliding over water, so your control is limited at best.
As your vehicle starts to slow, you should regain some contact with the road. At that point, you can safely ease onto the brakes.
Contact a Carolinas Personal Injury Attorney for Legal Assistance
According to statistics, more than 20 percent of crashes are weather-related each year. One out of every four accident deaths and almost 450,000 car crash injuries are caused by bad weather accidents. Almost half of those bad weather crashes happened during rainy weather and 75 percent occurred on wet roads.
If you have been injured in a crash caused by another driver – regardless of the weather conditions – you may be entitled to financial compensation for the losses your injuries have caused you. Contact a North Carolina car accident attorney to see what legal options you may have. The legal team from Shapiro, Washburn & Sharp have been advocating for injured clients since 1985 and will do all we can to ensure you receive the best possible outcome under the circumstances of your case. If you would like to meet with one of our skilled North Carolina accident attorneys to find out how we can help, call us today at (833) 997-1774 for a free case evaluation.
RELATED CONTENT