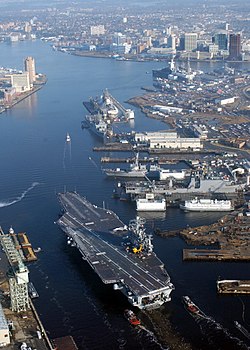 Hampton Roads is a port city.  From the containers that come by sea, to the many marine industries.  In order to maintain all this, there are many people that work in tight spaces and in harrowing situations.  There jobs are vital and important but they are often unseen. 
Industrial accidents can often times be serious and sometimes deadly. A recent industrial accident in Portsmouth, Virginia (VA) left a man in his 50's with his legs "clinched" between a concrete pylon and a tug boat that was being moved for repair. In the process of moving the boat, police say the man got stuck.
There are many questions that need to be answered.  Were all the safety inspections on equipment up to date?  Was there safety procedures in case an accident such as this occurs?  There is no news yet, but OSHA is investigating the incident and we're told the Branscome plant will remain closed for at least two weeks.
Last year, there were 118 fatal industrial accidents in Virginia, including 21 deaths from "contact with objects and equipment." Too many employees are getting seriously injured or killed in these incidences, many of which are preventable. We have laws and regulations in place to try and prevent industrial accidents, but it takes a concerted effort from industry and the private sector to ensure those laws and regulations are adhered to.