No pedestrian should ever have to worry about sustaining an injury when they are legally using crosswalks. Unfortunately, the careless or negligent actions of other drivers often result in devastating crosswalk injuries. At Shapiro, Washburn & Sharp, our team is here to help if you need a Virginia Beach pedestrian crosswalk injury lawyer. We have the resources necessary to investigate every aspect of your claim and help you recover full compensation for your losses.
Why Choose Shapiro, Washburn & Sharp for a Pedestrian Crosswalk Accident Claim?
At Shapiro, Washburn & Sharp, we are the injury law leaders when it comes to multi-million dollar settlements and a jury verdict since 1985 in Virginia.
Because we only handle personal injury law cases, we are able to devote our resources to helping pedestrian accident victims who need us the most.
Our lawyers take Virginia Beach pedestrian crosswalk cases on a contingency fee basis, which means that our clients will not have to pay a dime in legal fees until after we recover the compensation they need.
Our pedestrian accident attorneys regularly recover major settlements and jury verdicts on behalf of pedestrian accident victims, including a $545,000 insurance settlement for a pedestrian who suffered broken legs as a result of a crosswalk accident in Virginia.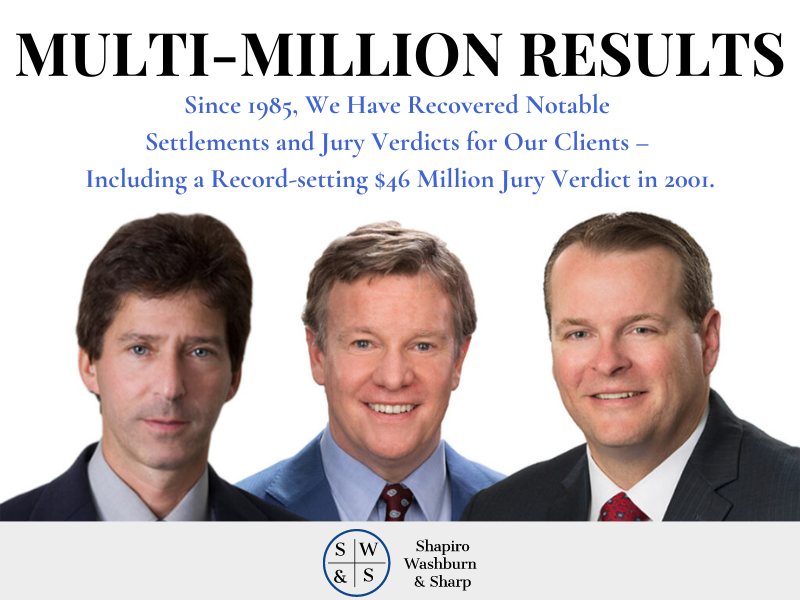 How Will an Attorney Help a Virginia Beach Pedestrian Crosswalk Accident Case?
Pedestrian crosswalk accident claims can become challenging, particularly if the at-fault party and insurance carriers dispute fault. A pedestrian accident lawyer in Virginia Beach will be able to use their resources to fully investigate the claim and determine liability. This will include:
Obtaining video and photo surveillance as well as eyewitness accounts.
Working with car accident reconstruction experts if necessary to prove what happened.
Ensuring the client is evaluated by trusted medical professionals.
Negotiating vigorously with the insurance company involved to recover fair compensation.
Common Causes of Pedestrian Crosswalk Accidents in Virginia Beach
Data taken directly from the Virginia Department of Motor Vehicles shows us that there were 1,242 total pedestrian accidents across Virginia during the latest reporting year. Out of these incidents, there were 114 pedestrian fatalities and 1,186 pedestrian injuries. These numbers are slightly depressed from the previous years, likely due to the COVID-19 lockdowns during 2020.
The data does show us that the vast majority of pedestrian accidents result in some sort of injury for those involved. These incidents occur in a wide variety of ways, even at crosswalks where pedestrians should have the right of way. Some of the main causes of pedestrian accidents in crosswalks in Virginia Beach include the following:
Drivers failing to yield the right of way
Poor visibility at the crosswalk area
Drivers under the influence of alcohol or drugs
Drivers distracted by phones or other devices
Malfunctioning crosswalk signals
Time Limit for Filing a Pedestrian Crosswalk Accident Claim in Virginia
It is crucial for pedestrians to file accident claims as soon as possible. Insurance carriers have very strict reporting deadlines in these cases, often within a day or two after the accident occurs. Additionally, the statute of limitations for personal injury claims in Virginia is two years from the date the injury occurs. Failing to file a claim within this timeframe will result in the pedestrian crosswalk victim being unable to recover the compensation they are entitled to.
Call a Virginia Beach Pedestrian Crosswalk Accident Attorney Today
If you or somebody you love has sustained a pedestrian accident injury in a crosswalk in the Virginia Beach area or anywhere around the Hampton roads region, the team at Shapiro, Washburn & Sharp wants to help you cover the compensation you are entitled to. We have the resources necessary to fully investigate these claims in order to determine liability and recover damages.
Let us stand up to aggressive insurance carriers and at-fault drivers on your behalf so you can get on the right path to recovery. When you need a Virginia Beach pedestrian crosswalk injury attorney, you can contact us for a free consultation by filling out the contact form below or calling us at (833) 997-1774.