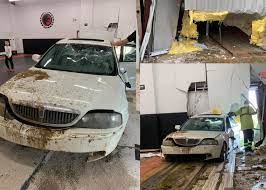 Students at a Charlotte, North Carolina marital arts school got quite the shock during a recent class when a car crashed right into the school's building. The accident occurred on March 8, at approximately 1 p.m. at a Leadership Martial Arts at 9928 S Tryon St.
Eight students and staff were training on a mat when a car suddenly came smashing through the building and into the main mat and viewing area. There were no reported injuries, however, there was extensive damage done to the building.
According to the school's owner, the car jumped over a neighbor's detention pond and into the wall of the school. He said the driver, who was under the influence of alcohol, tried to flee the scene of the crash, but then attempted to "square up" with the owner. The owner and staff kept the driver at the scene until police arrived.
The Charlotte-Mecklenburg Police Department said the suspect "unlawfully, recklessly, and in total disregard for the public's safety" lost control of the vehicle. The suspect's name has not been made public.
Drunk Driving Crashes
Thankfully, no one was hurt in this crash. Given the number of children and adults in the area the crash occurred in, there was potential for a horrific tragedy. According to statistics from the Centers for Disease Control and Prevention, 29 people die every day in this country because of alcohol-related crashes. This comes out to one death every 50 minutes. More than 10,000 people die each year in crashes caused by a drunk driver, accounting for more than 30 percent of all traffic fatalities. The yearly cost of drunk driving crashes is more than $44 billion.
Despite all of the education, warnings, death and injury statistics, and potential penalties if convicted, drivers still continue to get behind the wheel of their vehicles after they have been drinking. While this is often mind-boggling to many people, studies show that there are common reasons why these drivers choose to drink and drive:
They don't realize that they have had too much to drink.
They do realize how much they have had but still think they can safely operate their vehicle.
They think they can get away with it.
They don't believe that they will get into a crash.
As the tragic number of drunk driving accidents confirm, the above reasons are all wrong.
Drunk Driving Accident Damages
Victims of drunk driving accidents are entitled to pursue damages from the at-fault driver to recover financial compensation for the losses their injuries have caused them, including:
Past, present, and future medical expenses, including medications, medical devices, and even the cost of transportation to get back and forth to treatment.
Past, present, and future loss of income from being unable to work. This includes vocational training if the victim can no longer go back to his or her prior profession because of the injuries.
Pain and suffering
Emotional anguish
Loss of life enjoyment
Permanent disability
Scarring
Disfigurement
The victim of a drunk driving accident may also be awarded punitive damages as a way to punish the drunk driver for their egregious behavior.
Contact a North Carolina Drunk Driving Accident Attorney
Unfortunately, no matter how many precautions you may take to stay safe, there are far too many other drivers on the road who fail to do the same. If you are injured in a drunk driving accident, contact a North Carolina car accident attorney to find out what legal options you may have.
The legal team from Shapiro, Washburn & Sharp have been advocating for injured clients since 1985 and will do all we can to ensure you receive the best possible outcome under the circumstances of your case. If you would like to meet with one of our skilled Carolinas car accident attorneys to find out how we can help, call us today at (833) 997-1774 or a free case evaluation.
RELATED CONTENT