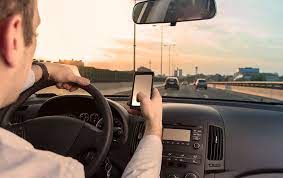 In May 2013, NBC4 out of Washington, DC, reported that 80 percent of crashes in Virginia involved one or more distracted drivers. The TV station also ran through findings from a AAA survey that revealed a full one-fifth of people admitted to becoming distracted while driving on I-95.
The survey further showed that 42 percent of those who confessed to texting and driving at the same time either had an accident or a close call. This was in spite of 75 percent of survey respondents indicating that they were aware of the problem of distracted driving.
Using a broader lens, the National Safety Council determined that across the United States, "more than 90 percent of car crashes involve human error." The NSC places distracted driving near the top of the list of errors and points in particular to the use of handheld phones for talking, texting and navigation.
LEARN MORE
Many Distractions, Many Potential Victims
Taking one's eyes and mind off the road kills and injures. The National Highway Traffic Safety Administration collected 2,841 reports of deaths in distracted driving crashes during 2018. A tear later, the Virginia Department of Motor Vehicles recorded 120 deaths that were attributable, in part, to distracted driving. Another 13,258 drivers, passengers, pedestrians and bike riders suffered injuries in distracted driving crashes during 2019 in Virginia.
Elsewhere on its website, the DMV explains
The three basic types of distracted driving are manual, visual and cognitive, and all three increase crash risk. During visual distraction, drivers' eyes are off the road, such as looking at a billboard or the dashboard. A driver's hand is off the wheel during manual distraction, such as eating or handling an object.
Cognitive distraction poses the highest risk because the driver's mind is off driving. When a driver's brain is overloaded by two cognitive tasks, such as driving and talking on the phone, drivers make the phone conversation the main task and driving becomes the secondary task, without recognizing it. Driving is severely impaired as a secondary task, and the impairment can last a long time.
This calls attention to the wide array of potential—and, too frequently, indulged—distractions for drivers. Phones and GPS devices are discussed regularly, but passengers and pets can be as distracting, especially for teen drivers. Eating and reaching for items hit the trifecta of drawing the eye, occupying the mind and removing at least one hand from the steering wheel.
A steady rise in pedestrian deaths has tracked with the uptake of smartphones. Researchers stop short of drawing a direct cause-and-effect relationship, but the correlation is strong enough to lead to widespread speculation that more distracted drivers are hitting and killing more people in crosswalks and along the side of the road.
Statistics like the ones presented above convinced Virginia lawmakers to strengthen laws against distracted driving. Enforcement cannot never suffice to end the problem, however. Drivers must take personal responsibility to go handsfree with devices, use devices sparingly (if at all) and commit to keeping their focus on the essential tasks of controlling their vehicle and protecting themselves and others.
EJL