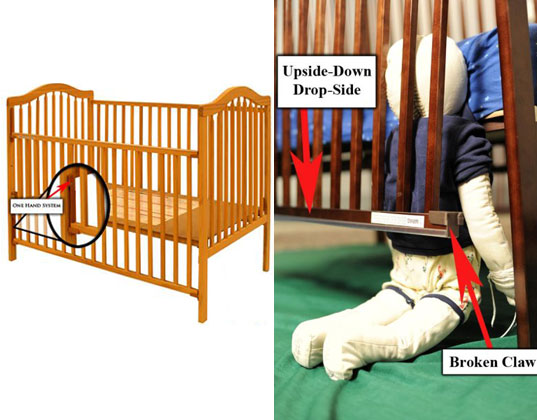 The U.S. Consumer Product Safety Commission has recalled a drop-side crib from Shermag Inc., of Quebec, Canada. The drop-side rail hardware can malfunction, allowing the drop-side to detach from the side of the crib.
When that side detaches, a dangerous gap is created between the rail and the mattress. Infants and toddlers could become trapped in that gap, which creates risks of suffocation and strangulation. Children could also potentially fall out of the crib if the drop-side falls unexpectedly or detaches from the side. These malfunctions can be caused by incorrect assembly or simple age-elated wear and tear.
The CPSC has had 21 incidents reported involving the drop-side failures. While no injuries have been reported, a dangerous product failure like this is simply an accident waiting to happen. The CPSC recommends that consumers stop using this model of crib immediately, and find a suitable alternative for their children, including bassinets, play yard or toddler bed. Shermag, the product manufacturer, will provide a free repair kit to immobilize the drop side of the crib.
If you have a drop-side crib in your home, make sure to check the model numbers found on stickers and warning labels. The recall includes model numbers 202647, 211047, and 272547.  Product safety, especially when it comes to our kids, is crucial. Always keep close watch on product recall news, and never use a crib older than 10 years. Age is certainly a factor in safety.
If your child has been injured due to a dangerous product, speak to our Virginia Beach personal injury attorneys for a free consultation today.
CD