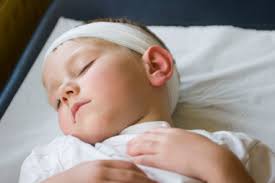 Any type of injury to a child can be alarming, but traumatic head injuries are especially frightening for parents. According to data from the Centers for Disease Control and Prevention (CDC), there are approximately 435,000 children who suffer a brain injury each year in this country. Many of these children do recover from their injury, however, there are also a high number of young victims who end up with permanent issues from their brain injuries. Multiple studies have found that this could be caused physiologically.
One study, conducted by the Keck School of Medicine of USC, analyzed the brain scans of children who had suffered brain injuries and compared those scans to a second scan done shortly after the injury occurred and then a third scan taken a year later. Researchers also compared the scans to a control group of brain scans of healthy children.
Researchers saw that some of the children in the group who had suffered a brain injury had a slight delay in the transfer of information that went from one hemisphere of the brain to the other hemisphere. The study team also found that these children had widespread regions of white matter disorganization, as well as progressive loss of white matter volume.
While one group of children did experience this delay in the transferring of information, there was another group of children who had sustained brain injuries that did not experience a delay. The study team was unable to determine why the second group recovered better than the first group of children. One theory is that it could have something to do with the alteration to the brain structure from the injury, possibly because of the inflammation that occurs in the brain from the injury.
The study's results may offer promise for helping to predict when a child may need more extensive treatment after suffering a brain injury, although much more research needs to be done. Tragically, at this point, there is no way to predict which child will have issues in the future and which ones won't. This can hinder a brain injury lawsuit if the parents don't have a seasoned Virginia brain injury attorney advocating for them.
Brain Injury Symptoms
If your child has sustained a head injury in an accident, it is critical to know the symptoms of a brain injury. These symptoms of a brain injury range from mild to moderate to severe and depend on the extent of damage the brain sustains. A person with mild brain injury may remain conscious or may experience a loss of consciousness for a few seconds. Other symptoms include confusion, headache, dizziness, blurred vision, ringing in the ears and more. While a person with moderate or severe brain injury may show all of these symptoms but may have a headache that increases in pain and doesn't go away accompanied by vomiting, convulsions, seizures, nausea, inability to awaken from sleep and more. The most severe of cases can result in unresponsive state.
Long-Term Effects of Brain Injury
There are many different long-term or permanent effects that a child who suffers a brain injury can suffer. These include:
Reduction of coordination, weakness, or problems with balance.
Issues with cognition, including memory, reasoning, and thinking.
Issues with sensory processing, including hearing, sight, taste, and touch.
Issues with being able to communicate, including the ability to understand and express.
Issues with acting out, aggression, anxiety, depression, personality changes, and more.
Contact a Virginia Injury Attorney
If your child has suffered a head injury in an incident caused by the negligence of another person, your family may be entitled to financial compensation for the pain and losses that were a result of that injury. Our Virginia brain injury attorneys have successfully represented many accident victims and their families and would be happy to meet and discuss how our firm may be able to help. We also provide a free traumatic brain injury guide that provides important information about Virginia's brain injury law and other legal questions regarding pursuing an injury claim.
Contact the legal team at Shapiro, Washburn & Sharp today at (833) 997-1774 to schedule a free and confidential case evaluation to find out how we can help.
RELATED CONTENT