An alleged drunk driver caused a car accident which killed two people in Staunton, VA. The fatal crash occurred at Brand Station Road/Route 792 and Route 250, at approximately 6:30 pm on Monday.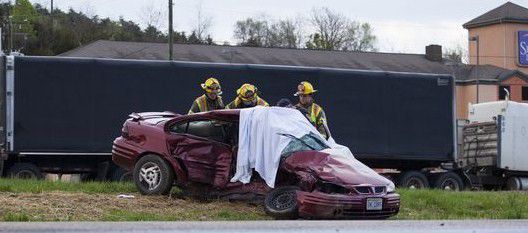 According to details released by the Virginia State Police, a 2001 Pontiac Grand Am, which had been traveling westbound on Route 250, was attempting to take a left turn onto Brand Station Road. A 2001 Chevrolet Suburban, which was traveling east on Route 250, failed to stop for a red light and slammed into the passenger's side of the Pontiac.
The driver of the Pontiac, a 44-year-old Waynesboro woman, and her 12-year-old daughter were pronounced dead at the scene of the crash. The driver of the Chevrolet, a 60-year-old Crozet man, and his passenger, an unidentified male, were transported to Augusta Health where they were treated for minor injuries.
The driver was later transported to Middle River Regional Jail after being charged with two counts of driving under the influence — aggravated involuntary manslaughter. He remains in jail after being refused bond at his arraignment at the Augusta County General District Court.
Over 11,000 people are killed every year in drunk driving crashes. That comes out to one life lost every 45 minutes. Each year, more than 1.5 million people are arrested for driving under the influence. And many of those drivers are operating on suspended licenses.
Often, a person who is consuming alcohol does not realize the quick effect it has on them. It does not take much alcohol to raise a person's blood alcohol content over the .08 legal limit.
If you have lost a loved one in a crash caused by a drunk driver, contact a dedicated Virginia wrongful death attorney to find out what legal options you may have against the driver who was responsible for the accident.