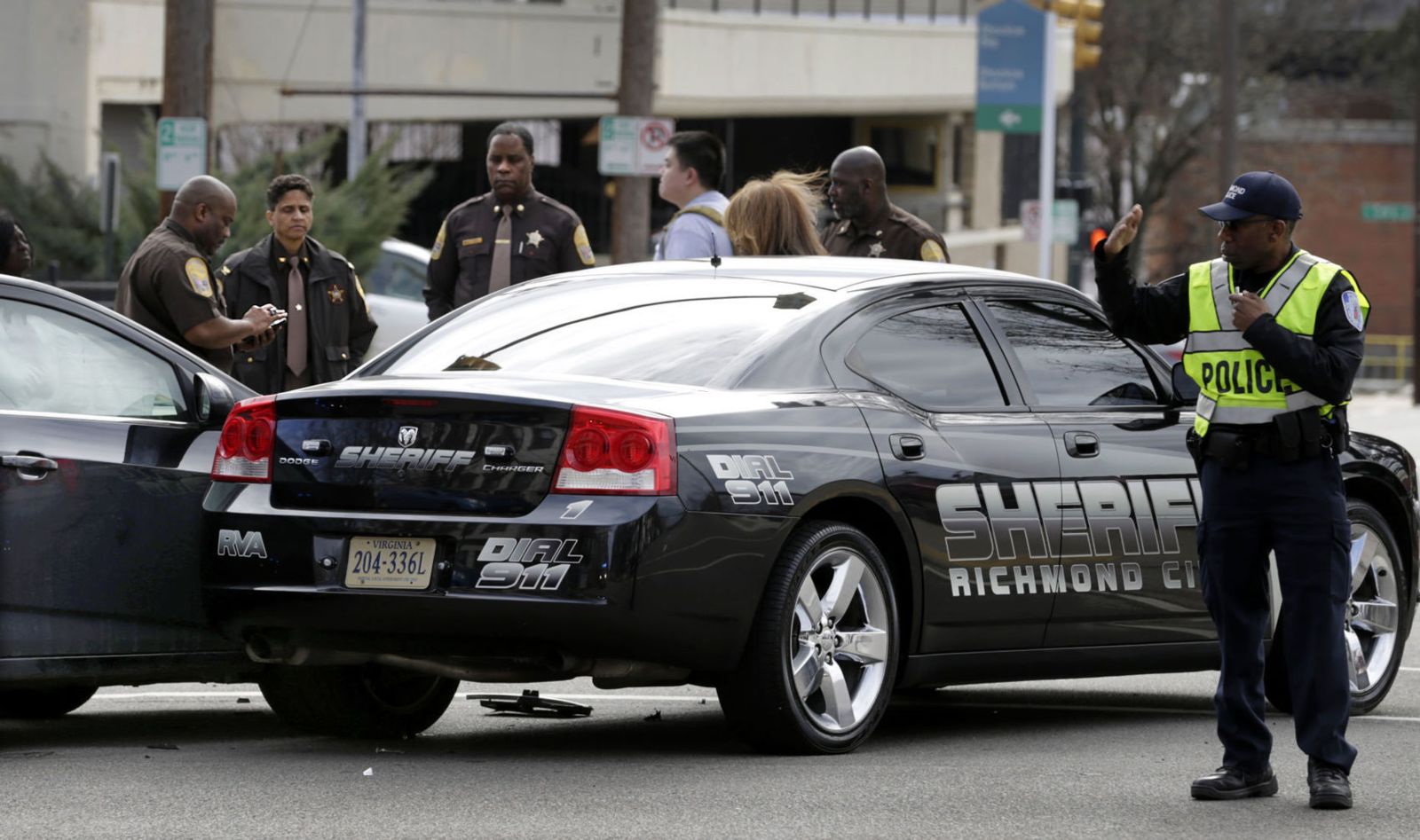 The Richmond City Sheriff has been charged with running a red light and causing a crash which injured the driver in the other vehicle. The accident occurred Wednesday afternoon on North Third and Main Street. According to statements from the Richmond Police Department, a Chevrolet Sonic sedan crashed into the driver's side of the cruiser. Both drivers claimed to have had the green light.
The impact of the crash was hard enough that the airbags in the Sonic were deployed. The driver was transferred to a local hospital with non-life-threatening back and neck injuries. The 52-year-old sheriff, who was elected to office in November, was charged with disregarding a red light.
Government Liability in a Car Crash
The driver in this crash will likely need file a car accident claim for the injuries that he sustained in the crash. Although his injuries were not life-threatening, back and neck injuries are often serious and involve a long recovery. These types of injuries typically require multiple doctor's visits, diagnostic testing, physical therapy, and more. It is also highly likely that the victim will miss time from work, as well as suffer other losses that he can pursue in an auto accident claim.
Filing a claim when you are injured in a car accident can be confusing but when the claim is being filed against a government entity – in this case the city of Richmond sheriff – the claim becomes even more complex. Because of the all the rules and deadlines involved with accident claims and the government, it is always in your best interest to consult with a Virginia car accident attorney right away.
RELATED CONTENT
Governments are often protected by sovereign immunity, which means they cannot be sued, unless certain conditions apply, such as "gross negligence" in the vehicle operation.  A car accident is one example of when the government can many times be held liable for a victim's losses.  In Virginia, if government immunity applies to the sheriff, then a driver's uninsured motorist coverage might kick in anyway to provide insurance coverage.
Before accident victims can even file an injury claim against a city or a state or county, their Va. accident attorney must first file a written notice with the municipality, county, or state the claim will be filed against. There is a limited time period for this notice to be filed depending on what level of government it is. For example, if the claim is against a city, the attorney must file notice within six months. If it is against the state, it must be filed within one year. The notice must provide the details of the accident and how much the in damages the victim is seeking.
Some of the more common types of vehicle accidents which could result in a claim being filed against a government entity include:
Crashes caused by a negligent government official or employee driving a government-owned vehicle;
Crashes caused by construction vehicles, buses, and other government vehicles; and
Dangerous road or highway conditions caused by failure to maintain roads, failure to remedy known traffic flow issues, poor construction, and roadside hazards.
Contact a Virginia Personal Injury Attorney for Assistance
It is critical to remember that no matter what type of accident you have been in, the state of Virginia has imposed stringent statute of limitations on how long a victim has to pursue a claim. Failure to file on time could result in your claim being dismissed. This is why it is so important to contact a Virginia car accident attorney immediately following a vehicle accident, As the attorney can assess the insurance that might be available again to the negligent driver, or what uninsured or underinsured motorist coverage may apply.
The attorneys at Shapiro & Appleton have decades of experience in successfully representing accident victims and their families in obtaining the financial compensation they deserved for their losses. Call us today at (833) 997-1774 for a free case evaluation.