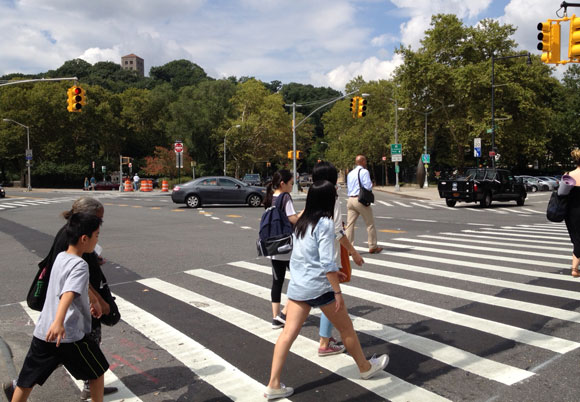 The most common cause of car accidents at intersections is vehicles making left turns. There are multiple reasons for this. A driver who is turning may not see a vehicle coming because their vision is somewhat obstructed or they misjudge the speed the vehicle is approaching and think they have enough time to make that turn. The result for the occupants in the approaching vehicle is often serious injuries. Even more at risk for serious or severe injuries are pedestrians who may be crossing at a crosswalk at an intersection when a driver makes an illegal or risky left turn.
At Shapiro, Washburn & Sharp, we have successfully represented many pedestrian accident victims who were injured because of a driver's negligence when taking a left turn. If you have been suffered injuries, call our office to meet with a member of our legal team to find out what legal options you may have against that driver and get the financial compensation you may be entitled to.
Pedestrians and Risky Left Turns
According to statistics provided by the National Highway Traffic Safety Administration (NHTSA), pedestrians account for almost 20 percent of all vehicle accident deaths, with approximately 6,000 victims killed each year. Another 130,000 victims are seriously injured.
Studies show that about half of all pedestrian accident victims suffer injuries to their lower extremities. Forty percent of victims suffer injuries to their head and face, while 30 percent suffer injuries to their upper extremities. Many victims suffer from multiple trauma.
There are several factors that lead to left turn pedestrian accidents. Knowing what these factors are may help minimize the risk of being hit when getting ready to walk in an intersection crosswalk:
Drivers can be impatient: Everyone seems to always be in a hurry these days, especially on the road. Waiting at an intersection to take a left can be frustrating enough, but that frustration can rise even more if there are no traffic signals. Drivers are forced to sit, just waiting for that moment when traffic eases enough that that they can finally take that turn before another vehicle approaches or the light to turn red again. A driver may be so focused on the traffic that they fail to check for pedestrians who have the right of way and they just whip their vehicle out into the road.
Drivers often need to quickly accelerate: As described above, there is usually a very small window giving the driver enough time to turn before another vehicle approaches. This means they go from a complete stop to quick turn and have to accelerate their vehicle in order to make it in time. Another reason for quick acceleration is that there is often a wide turn radius to take that turn, a driver usually needs to increase their speed when they are turning.
Drivers in other vehicles reaction: If one driver is making a risky and dangerous left turn, this can cause drivers in other vehicles to react and swerve to avoid crashing. That swerve can tragically be into a crosswalk where a pedestrian is crossing the street.
Drivers often have blind spots when taking left turns: New model vehicles have wider A-pillars that hold the windshield of the car in place. This is because airbags are stored here in order to protect occupants in the event of a rollover crash. However, wider A-pillars also create bigger blind spots, especially when trying to turn. There may also be other things that are blocking the driver's vision, such as buildings, parked vehicles, or groups of people.
Call a North Carolina Pedestrian Accident Attorney
If you have been injured in a pedestrian accident caused by a driver taking a left turn, not only to you have to deal with the physical and emotional effects of the accident, but you are likely dealing with the financial consequences, as well. Pedestrian accident victims often suffer serious to severe injuries and can mean high medical bills to treat these injuries. This also means the victim is unable to work while they recover, leading to a loss of income and benefits during this time.
When an accident is caused by another party who behaved recklessly or negligently, North Carolina allows victims to take legal action in order to be financially compensated for all of these financial expenses. Victims can also pursue damages for losses that are not economic, such as pain and suffering, scarring emotional anguish, and more.
If you would like to discuss your situation, contact our office to speak with a seasoned North Carolina accident attorney. Shapiro, Washburn & Sharp has been advocating for accident victims for more than three decades and will work diligently to get you the compensation you deserve.