A man walking in a crosswalk, attempting to cross Forest Hill Avenue in Richmond, was struck by a Pontiac Bonneville that was heading west. The fatal crash occurred at approximately 7:00 in the evening, near the intersection of Forest Hill and Sheila Lane. The victim was rushed to a local hospital but died the next day. Police are investigating the fatal crash and say charges are pending. They have not released any other details of the crash, including information on the victim or the driver.
The number of pedestrian accidents continues to climb to each year. According to the Centers for Disease Control and Prevention (CDC), in 2015 (the latest year data available), there were more than 5,300 pedestrians killed in vehicle accidents. Another 129,000 were treated in emergency rooms for their non-fatal crash injuries.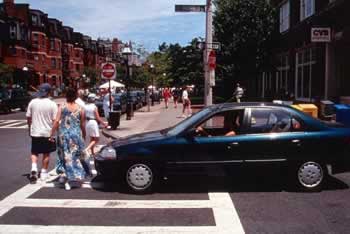 It is estimated that a pedestrian is 1.5 times more likely to be killed than a person in a vehicle each time they venture out. Our Virginia pedestrian accident attorneys understand the devastation that these accidents can have on families. For those victims who are fortunate enough to survive, many sustain catastrophic injuries in the crash that take months – sometimes years – to recover from. Many victims suffer serious injuries to the musculoskeletal systems to upper bodies and legs. Depending on how fast the vehicle is going, the force of the impact can send the victim over the car and onto the ground, leaving them with severe brain or back injuries.
Common Causes of Pedestrian Accidents
Multiple studies have been done in an effort to determine what causes pedestrian accidents and what can be done to prevent them. Some of these common causes include:
Intersections: The majority of pedestrian accidents occur at intersections when a vehicle is attempting to take a turn;
Time of day: Most pedestrian accidents occur at night;
Driver failure: Many pedestrian accidents occur because the driver fails to obey traffic laws and signals, including using their cell phones;
Speed: One of the common reasons for a car hitting a pedestrian is because of the driver failing to obey the posted speed limit;
Alcohol: Many drivers who hit pedestrians have alcohol in their system; and
Location: Every three out of four fatal pedestrian accidents occur in urban areas.
Contact a Va. Injury Attorney Today
If you or a family member has sustained injuries in a pedestrian accident, contact a seasoned Virginia car accident attorney today. Our personal injury law firm has decades of combined legal experience and has built a solid reputation of being skilled negotiators when dealing with insurance companies. We will use all available resources to get you the financial damages you deserve for the pain and loss you have suffered.