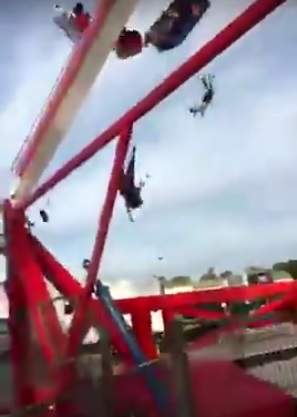 The smell of popcorn and cotton candy drift though the air, flashing lights and whirling rides light up the eyes of children and adults alike.  This could be any state fair in the country, and most likely you've been to at least one.  But recently, at the Ohio State fair, the sound of happy laughter turned to terrified screams when a ride malfunctioned.  The ride began as normal, spinning and twirling in the air when suddenly, something went wrong.  Parts of the 40-foot tall ride broke apart as terrified riders were thrown like rag dolls to the ground. The accident was so serious that it claimed the life of an 18-year old young man and injured seven other people.
The Huffington post named the Ohio State fair as one of the ten best in the country.  If an accident of this magnitude can happen at a state fair imagine how much greater the odds are of being hurt in at a small traveling amusement park.  Fair officials said that the ride was inspected multiple times before the fair opened, and it passed every time.
"It's been looked at about three or four times over the course of two days," said Michael Vartorella, chief ride inspector for Ohio's Division of Amusement Ride Safety. "It was inspected at a couple of different stages and it was signed off" on Wednesday.
Owners of amusement rides are held to a high degree of care to the patrons that visit an amusement ride, water park, or similar state fair. And it makes sense that they owe a high degree of care because they are attracting the public to what can be dangerous conditions and the public relies on the fact that these operators keep the theme park, water park or state fair in a safe condition.  To find out about the safety of local Virginia theme parks, click here.
As experienced Virginia personal injury attorneys we know that there are a number of reasons why this accident may have occurred.  The first could be a defect in the design of the ride.  The second could be due to mechanical failure due to improper maintenance of the ride.  Lastly we have to figure in the human error factor, when operators of rides have not been properly trained, or are derelict in their responsibilities, there is a much greater chance of someone getting hurt.  If you or a family member gets injured in an amusement park accident, contact a skilled Virginia personal injury attorney to discuss what legal recourse you may have against those responsible for the accident.
RELATED CONTENT