The number of drivers in this country who will be 70 years or older is expected to triple over the next two decades. According to research conducted by National Highway Transportation Safety Administration (NHTSA), the risk of a person being involved in a fatal car accident spikes when they reach 75 years old. There are several reasons cited for this marked increase, including the presence of long-term side-effects from medical conditions.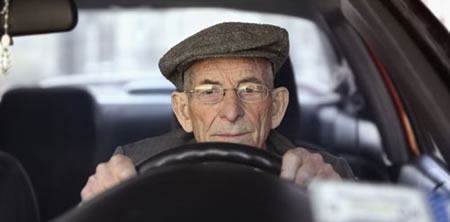 One of the most common of these medical conditions is a stroke. When a person has a stroke, one of their blood vessels has either burst or is being blocked by a blood clot. This means that blood and oxygen is not getting to parts of the brain and brain cells die.
Stroke Victims and Driving
It is estimated that there are more than 795,000 people suffer from strokes each year, which can occur at any age. Approximately 200,000 of those strokes are recurrent. Almost 25 percent of stroke victims are under the age of 65 years old. Many patients suffer long-term effects from their stroke, yet most stroke patients do not have themselves evaluated before getting back behind the wheel of a car again, putting themselves, as well as other drivers and passengers on the road, at great risk.
Depending on which side of the brain the stroke occurred on, possible long-term or permanent effects from a stroke include vision problems, memory loss, changes in behavior patterns, speech and other language problems and paralysis on one side of the body.
In one survey of stroke patients, more than half said they had returned to driving, many of them within a month after the stroke. Less than 6 percent of those surveyed had any type of formal driving evaluation done before the got back on the road. Eleven percent admitted that their ability to perform many of life's everyday activities has been strongly impacted by the stroke.
The American Stroke Association recommends that all stroke victims have a driver evaluation test done before they begin to drive again. The association points out certain signs that the effects of the stroke have on the driver, including:
Driving too much below or too much above the speed limit;
Not being aware of road signs or signals;
Drifting into other lanes;
Becoming frustrated or confused easily; and
Often needing assistance from passengers in the car.
In terms of what is considered negligent, in car accident cases, when a driver operates a vehicle with knowledge that they have a medical condition that could affect their driving ability, this can constitute negligence under the common law that governs civil cases. When a person drives or operates a vehicle knowing that they have been treated for a serious medical condition, or are taking prescription medication for that medical condition, and the medical condition causes them to lose control of their car or truck, this can be considered negligent under civil laws. It is considered quite foreseeable that the medical condition could interfere with the driving ability of that person who caused the crash.
Contact a Virginia Personal Injury Attorney
If you have been injured in a car accident caused by a driver who suffered a medical episode or other medical condition, contact a Virginia car accident attorney to discuss what legal recourse you may have. Depending on the circumstances of the accident, you may be entitled to financial damages for all medical expenses, loss of income, and other losses those injuries have caused.