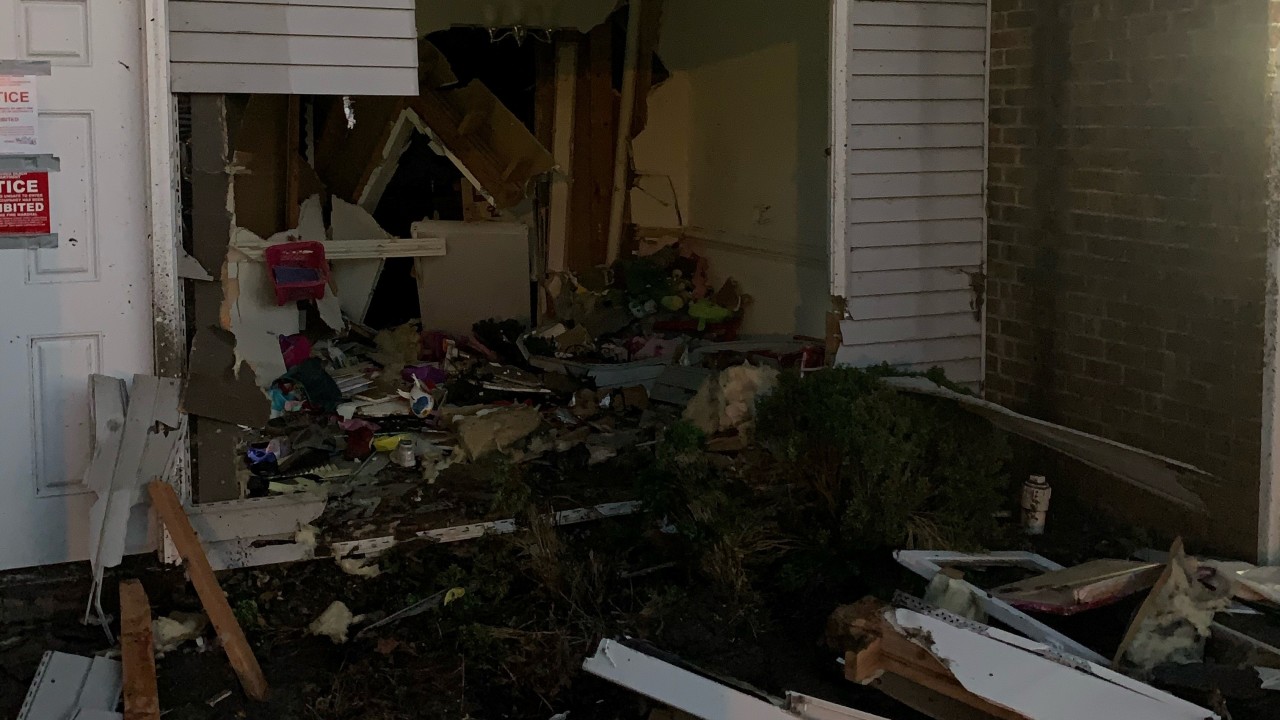 No matter how many safety precautions you take, there is always the risk of being hit by a car, whether you are in a vehicle, on a bike, or as a pedestrian. The last place you worry about getting hit by a car is in your own home, but that's the terrifying experience one Virginia Beach family recently went through.
According to the Virginia Beach Fire Department, at approximately 3 p.m. on Dec. 2, a pickup truck crashed into a home in the 400 block of Sedgewick Court, sending three people, including one child, to the hospital. The crash caused a small fire in the home that firefighters were able to extinguish fairly quickly.
Neighbors who heard the truck crash say they ran into the street to find the child's mother outside screaming that her children were inside the home. They ran into the home and found one child in the bathroom and the other child pinned between the truck and a toybox.
The driver of the truck was passed out, with one foot pressing all the way down on the gas pedal, causing heavy smoke to form and the tires to spin. He was unresponsive to attempts to wake him up. First responders arrived and the man finally came to. He reportedly suffered a seizure, causing him to drive into the home. He was able to walk away from the vehicle and get onto a gurney for transportation to the hospital.
No further information has been released by authorities regarding the medical conditions of the child and other victim who were transferred to the hospital.
Personal Injury Claims
Under Virginia personal injury law, a victim who suffers injuries caused by the negligence or recklessness of another party is allowed to pursue legal action against the at-fault party for financial compensation for any losses their injuries have caused them. Some of these losses included medical expenses, loss of income and benefits from being unable to work while recovering, pain and suffering, emotional anguish, scarring, and more.
At our Virginia Beach car accident law firm, our attorneys have successfully represented thousands of car accident victims in our more than three decades of advocating for injured clients. Some of the common causes of the car accidents that we see in the cases we handle include:
Aggressive driving
Driving under the influence
Distracted driving
Drowsing driving
Reckless driving
Speeding
When a driver engages in any of these behaviors and causes a crash that leaves victims injured, a Virginia accident lawyer can use that behavior to prove the driver's liability for the crash and the victim's injuries and losses. For example, if a driver was texting and ended up hitting the vehicle in front of them because they didn't realize the car had stopped at a red light, that is strong evidence of fault.
Another common cause of car accidents is when a driver suffers a medical emergency and becomes incapacitated, just like the pickup truck driver in the above accident. However, unlike other causes, it is the circumstances of the medical emergency that will determine whether or not the driver is legally at fault. In some cases, the driver may not be liable under the "sudden medical emergency defense."
Under Virginia's injury law, in order to hold a driver liable for a crash, the attorney must prove that the other driver was negligent or reckless in some way and that this behavior breached the duty of care the driver had to other commuters. But if the driver suffered a sudden medical emergency that was beyond their control, then legally that is not considered a breach of duty.
There are exceptions to this defense and that is why a victim of this type of accident should contact a Virginia accident lawyer immediately. Exceptions an attorney may be able to use in your case include:
The driver had been warned by their doctor not to drive because of a medical condition that could cause seizures or loss of consciousness.
The driver failed to follow their doctor's treatment plan, fully aware they were putting their health at risk with this failure.
Contact Our Firm Today
If you were injured in a car accident, it is critical not to delay contacting Shapiro, Washburn & Sharp right away. Virginia injury laws have strict rules regarding how long you have to file your personal injury claim. If the statute of limitations expires, you will be unable to collect financial damages for any medical expenses, loss of income, pain and suffering, or any other losses you may be entitled to.
A Virginia car accident attorney from our firm can evaluate your case and determine whether or not you can collect damages from the other driver's insurance company. Call today for a free consultation and find out how we can help.
RELATED CONTENT