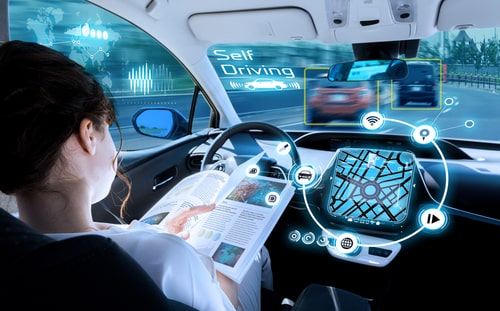 It has been nothing short of amazing how much ever-advancing technology has changed our lives, making it easier and safer. Automobile manufacturers have also used many of these advancements to provide safer vehicles for drivers and passengers, designing vehicles that utilize components that provide hands-free vehicles.
Some of the new technology in today's vehicles include backup cameras and motion detection software. There are even vehicles that park themselves. These technologies do help reduce crashes, as well as help reduce the severity in certain situations. However, even with these technologies, not every driver practices safe driving behaviors and we are all still at risk when we are on the road.
If you have been injured in a crash, the legal team at Shapiro, Appleton, Washburn & Sharp can help you pursue a claim for damages against the driver responsible for the crash. One of our North Carolina car accident attorneys can determine what the best legal options are to obtain the financial compensation you are entitled to for the losses your injuries have caused, including medical expenses, loss of income, pain and suffering, emotional anguish, scarring, and more.
Vehicle Technology
There are several different safety technology features that are becoming more standard in newer model vehicles. For example, many cars today have forward collision detection systems that prevent and reduce the impact of a vehicle accident. The system uses a camera, laser, and radar to detect an imminent crash. GPS sensors are able to detect any fixed objects, such as a parked vehicle or utility pole.
Other safety technologies in today's vehicles include:
Auto steering
Automatic Emergency Braking (AEB)
Autonomous cruise control (ACC)
Back-up camera
Blindspot warning system
Forward collision warning (FCW) system
One issue that can be a dangerous one with all this safety technology is the risk of there being a defective part or some kind of error or malfunction. If this occurs, the result can be a crash. This is also why it is critical for vehicle owners to maintain and have their vehicles inspected on a regular basis in order to make sure that there all systems are in good working order.
Causes of Car Crashes
The majority of car accidents occur because of driver error. One of the most frequent driving behavior resulting in accidents is distracted driving. In fact, according to the National Safety Council (NSC), approximately 25 percent of all crashes happen because a driver was using their cell phone (either talking or texting) while they were operating their vehicle, instead of keeping their entire focus on the road.
Unfortunately, even if a vehicle is equipped with the latest safety technology, there is just so much protection these systems offer if the driver is engaged in distracted driving behaviors. These technologies also may not protect other commuters if the driver is driving while under the influence of alcohol and/or drugs, driving while fatigued, or speeding. In many of these situations, the result of these bad driving behaviors results in the injury or death of innocent victims.
Contact a Carolinas Accident Attorney
If you or a loved one has suffered injuries as a result of another party's negligent or reckless actions, contact a North Carolina car attorney from Shapiro, Appleton, Washburn & Sharp. It is critical to remember that North Carolina has placed a statute of limitation on how long victims have to file a claim for damages against those responsible for their injuries, so do not delay. Failure to file before that legal deadline could mean you lose any chance of ever filing your claim or getting justice against the person responsible for you or your loved one's injuries.
Contact our office today at 800-752-0042 to set up a free and confidential case evaluation with one of our dedicated North Carolina accident attorneys. As mentioned above, you may be entitled to financial compensation for medical expenses, loss of income, pain and suffering, emotional anguish, permanent disability, scarring, and disfigurement. Call our office to find out how we can help.
RELATED CONTENT