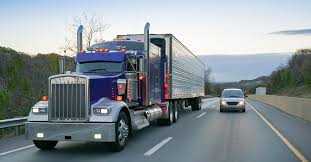 Driving in the vicinity of a tractor-trailer can be intimidating – downright scary – especially when they are loaded up with cargo. These are massive vehicles and their total weight, especially with a full load, can result in catastrophic injuries and death in trucking accidents. Every driver should be aware of the following important safety tips and understand the limitations that commercial trucks and the drivers who operate them have. If you or a loved one have been injured in a truck accident, contact our office to speak with a North Carolina truck accident attorney.
Factors to Remember
When you are driving near a large tractor-trailer or other commercial truck, the following factors are crucial to remember in order to stay safe:
Watch out and avoid the truck's blind spots: The length and height of a large truck often create blind spots for the truck driver in different areas of the vehicle. According to the Federal Motor Carrier Safety Administration (FMCSA), vehicle drivers should remember that if they can't see the truck driver in the truck's side mirror, then assume that the truck driver cannot see your vehicle. Always try to remain visible to the truck driver and never stay in a blind spot when you are attempting to pass the truck.
Be ready for wide turns: Commercial trucks are massive vehicles, and this makes them much more difficult to operate than passenger vehicles. This is also quite evident when a truck driver is attempting to make a turn with the vehicle. Because of their size, trucks often make wide turns and another vehicle should never attempt to get between the truck and the curb to try to pass. A vehicle driver should also never attempt to cross intersection lines when a truck is turning because the truck driver often uses those lines to help navigate the turn.
Give the truck extra room: While it is important to make sure you are visible to a truck driver, it is also important to give that vehicle the extra room it needs. Trucks take longer to stop than other vehicles, so make sure to allow enough space between your vehicle and the truck. Never tailgate a truck. If the driver should come to a sudden stop, a vehicle tailgating could end up under the truck and the results fatal. It also takes trucks longer to complete a lane change so make sure you give the truck driver the space they need.
Contact a Carolinas Injury Attorney for Assistance
Because of their size and weight, the injuries sustained from a tractor-trailer accident are often much more severe than accidents that happen with smaller vehicles. Not only truck accidents more catastrophic than car accidents, the process for pursuing damages is also more complex. Unlike car accidents, where there is usually only one other at-fault party – the driver – truck accidents often involve multiple parties that can be liable. When a truck driver causes a crash, the trucking company the driver works for is legally responsible for that driver's actions.
If you or a loved one has been injured in a truck accident, you are no doubt facing exorbitant medical bills, loss of income, and multiple other losses. A North Carolina truck accident attorney can evaluate your case and determine how much financial compensation you may be entitled to for your injuries.
The legal team at Shapiro, Washburn & Sharp has been successfully advocating for accident victims for more than three decades and will use all available resources to get you the compensation you deserve.
RELATED CONTENT