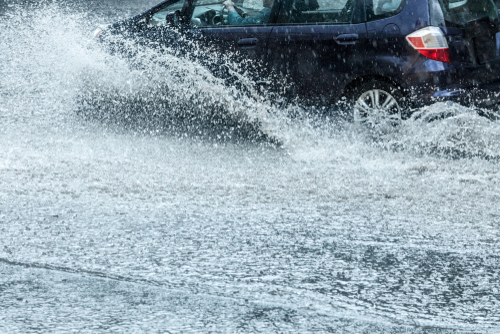 Autumn is here and that means that winter is right around the corner. And while spring is known for its rain, the truth is that the colder months can also bring with it heavy rains. Heavy rain can be just as dangerous as snow accumulations and in the winter, there is also the added hazard of the cold weather turning the rain into ice. This is why it is important to know what impact rain can have on driver safety and to take the steps needed to protect yourself, no matter what time of year it is.
More than one million weather-related traffic accidents occur each year in the United States. In an average year, those wrecks result in more than 7,000 deaths and send between 500,000 and 600,000 people to hospitals for the treatment of injuries.
As shocking as those numbers may seem, perhaps the most surprising finding to emerge out of a Federal Highway Safety Administration analysis of a decade's worth of crash data from 2007 to 2016 is that more serious collisions occur when it rains than when it snows or when roads ice over. This makes understanding how to operate safely when rain starts falling essential for all drivers.
Rain and Car Accident Risks
Our personal injury law firm has reported on numerous car accidents that were caused by heavy rains and other weather-related conditions. When these crashes occur on busy bridges and highways, they have the potential to cause multi-vehicle pile-ups, resulting in serious injuries and property damages while tying up traffic for hours at a time. Rain and wet conditions are nothing new in Virginia, but many drivers fail to recognize how they can increase car accident risks.
According to the Federal Highway Administration (FHWA), adverse weather conditions are listed as a factor in roughly a quarter of all car accidents. Rain is particularly dangerous due to the fact that, unlike snow or ice, drivers often fail to recognize the hazard or adjust their driving accordingly. Impacts that make car accidents more likely during wet weather include:
Reduced road and traffic visibility
Increased headlight glare, which can be momentarily blinding
Reduced tire traction, making coming to a stop more difficult and increasing the risk of skidding
Increased risk of breakdowns and accidents, which can impact other drivers
 Reducing Your Risks
To reduce your risk of car accidents and injuries, pay attention to the weather. If the forecast calls for rain, passing storms, and foggy conditions, give yourself some extra time to reach your destination. Speeding is one of the main causes of motor vehicle crashes, and the risks only increase during poor conditions. In addition to slowing down, Travelers Insurance offers these other tips for driving in the rain:
Avoid tailgating and allow plenty of time for making stops
Use extra caution when going downhill or around curves in the road
Keep both hands on the wheel at all times
Stay focused on the road and avoid distractions such as using cell phones, texting, or changing GPS settings
Contact a Virginia Injury Attorney
If you or a family member have sustained injuries in a crash caused by another party, call a car accident attorney in Virginia Beach to discuss what legal recourse you may have for your pain and loss. Under Virginia law, victims who are injured due to the actions of another person are entitled to financial compensation for medical expenses, loss of income, pain, emotional distress, and other losses they may have suffered due to those injuries. Contact Shapiro, Washburn & Sharp to schedule a free and confidential consultation.
RELATED CONTENT