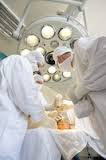 Could you be safer each time you enter a hospital in North Carolina or South Carolina? The federal government thinks so. As part as the new controversial health care bill, the government has asked hospitals across the country to improve their quality, increase their safety, and decrease their number of preventable medical errors. If they don't follow the new government regulations and rules, hospitals could face significant fines that would hurt their revenue badly. However, as heath care experts point out, preventable medical errors and other safety issues cost the health care industry billions of dollars each year.
One focus the health care bill has is lowering readmission rates – the rate at which discharged patients return for more care within 30 days. Health care advocates say high readmission rates are a red flag that patients aren't receiving proper care the first time around.
Hospitals could also be fined by the government for preventable medical errors and medical harm. Hospitals who report low rates of medical harm, such as preventable infections, will get more financial support. Beginning in 2012, those with high rates of medical errors will receive less Medicare support, and Medicare will cease paying for preventable hospital readmissions.
While hospitals are not happy with these new regulations, health care patients and consumers can hopefully look forward to better care, fewer medical mistakes, and more thorough examinations. Hopefully, when federal money is on the line, hospital will take care to take better care.