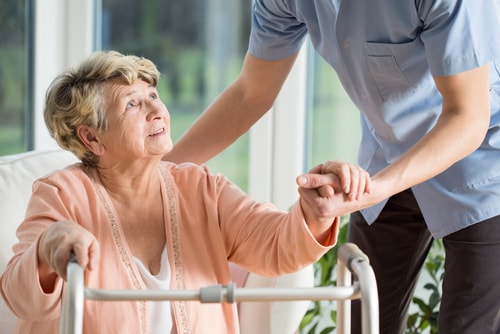 When a loved one reaches an advanced age and is no longer able to care for themselves, many families turn to nursing homes or assisted living facilities. Families trust that these institutions will provide their elderly loved one with the care they need – medical, proper nutrition, physical activity, and social interaction.
Tragically, many elderly patients are in vulnerable positions and end up being victimized by the very people who are supposed to be taking care of them. The rates of nursing home abuse and neglect continue to increase each year, including the numbers of seniors who are victims of sexual abuse. If you suspect your loved one has been sexually abused or assaulted by someone in the nursing home they are a patient in, contact a nursing home abuse attorney to find out what your legal options may be.
RELATED CONTENT
Nursing Home Abuse Statistics
As the baby boomer generation continues to age, the elderly population continues to significantly increase. Unfortunately, this also means the rate of elderly abuse is also on the rise. According to national statistics, there are a shocking five million seniors who are victims of abuse every year. And 10 percent of all seniors have experienced some form of abuse. Even more shocking is the number of cases that are actually reported – only one in 14.
While many people are outraged over elderly abuse and neglect, a lot of them do not realize that more and more seniors are sexually abused at an alarming rate. According to a study conducted by CNN, during a 17-year period, there were more than 16,000 complaints of sexual abuse reported in nursing homes across the country. It is even more devastating to think of how many thousands of cases were never reported. During a three-year period, more than 1,000 nursing homes were cited by the federal government for failing to prevent sexual abuse or for not properly handling reports of abuse. Almost 100 facilities were cited by the government multiple times.
Seniors who are particularly at risk of becoming victims of sexual abuse include:
Patients who do not have support from family members of friends.
Patients who suffer from dementia. It is estimated that approximately half of all patients with dementia have experiences some form of abuse.
Patients who have suffered domestic violence of sexual assault in their past.
Patients who are in poor physical health or are functionally impaired.
Female patients are more likely to be victimized than male patients.
Let a Skilled Virginia Nursing Home Abuse Attorney Help
If your elderly loved one has been the victim of sexual abuse or has been injured in any other way because of nursing home negligence or abuse, contact a Virginia nursing home abuse attorney to find out what legal recourse your family may have. At Shapiro & Appleton, we have been aggressively advocating for victims for more than three decades and have helped many nursing home abuse victims receive compensation for their injuries, as well as hold the perpetrators who committed the abuse responsible.
Contact our office today to set up a free and confidential consultation with one of our dedicated nursing home abuse attorneys today.