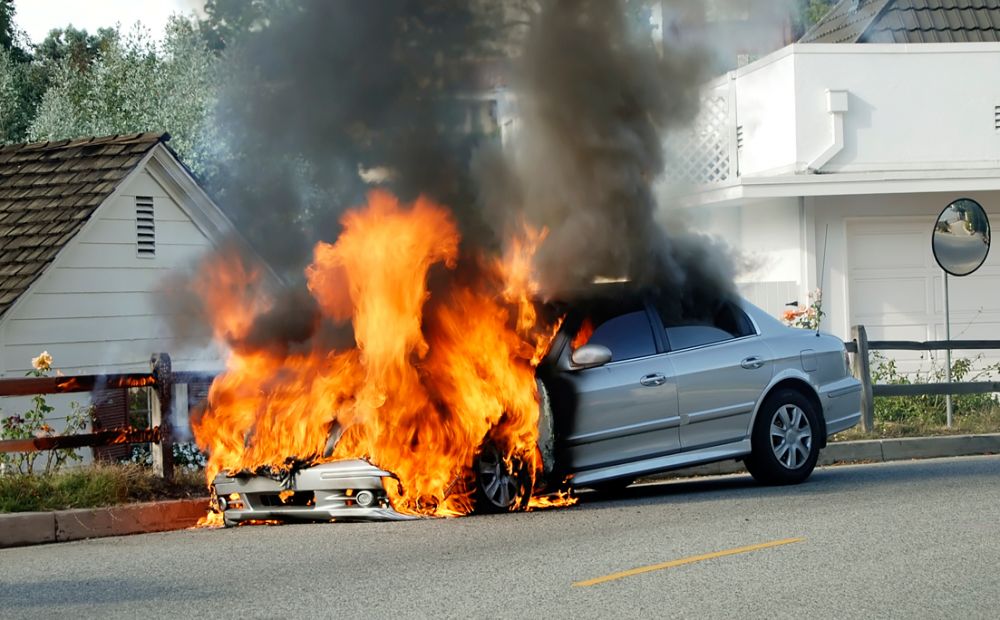 It is a common image in action movies and on television shows: a car accident occurs and as the occupants are moving away from the scene, an explosion suddenly erupts, and the car is set ablaze. In real life, car fires in the wake of a collision can be extremely deadly.
According to national data, from 2014 to 2016, an estimated 171,500 highway vehicle fires occurred in the United States. Approximately one in eight fires responded to by fire departments across the nation is a highway vehicle fire. Other statistics from that time period include:
Sixty percent of fatal vehicle fires were the result of a collision.
Eighty-three percent of highway vehicle fires occurred in passenger vehicles.
Sixty-two percent of highway vehicle fires and 36 percent of fatal highway vehicle fires originated in the engine, running gear or wheel area of the vehicle.
Mechanical failure was the leading factor contributing to the ignition of highway vehicle fires at 45 percent.
Insulation around electrical wiring (29 percent) and flammable liquids in the engine area (18 percent) were the most common items first ignited in highway vehicle fires.
Even if a car accident victim survives the initial crash, some may become trapped in their burning vehicle while others are knocked unconscious and unable to escape the blaze. While car fires are not particularly common, they can be extremely dangerous, and it is important for drivers to be aware of how and why they often occur:
Car accidents: In traffic collisions, spilled motor oil, gas, and other liquids can easily ignite as the result of contact with hot metal surfaces and engine parts, or due to sparks from electrical wiring.
Improper maintenance: Frayed belts or wiring, fluid leaks, and problems with electrical systems can eventually cause fires within the engine, which spread to other parts of the vehicle.
Aftermarket accessories: Improper installation, faulty products, or having too many aftermarket installations can all cause overloaded fuses, which may result in a fire.
Car batteries: Worn battery wiring, missing insulation, and improper jumper cable placement present fire risks.
Overheated catalytic converters: Problems with the emissions system can cause high temperatures which do damage and can cause the catalytic converter to burst into flames.
Steps to Take if Your Vehicle Catches Fire
If you are in a vehicle that catches fire because of an accident or other reason, it is critical to know what to do. The first thing you should do is get yourself and all other people out of the vehicle and move away to a safe distance. Watch out for other vehicles that may be driving in the road as you are moving away from your vehicle. Do not attempt to go back to the vehicle to retrieve any personal items. Call 911 and report the fire. If you suspect a fire, but are unsure, do not open the hood or trunk because the air could result in feeding the fire and making it even more dangerous.
Call a Va. Accident Attorney Today
If you or a loved one has suffered burn injuries from a car accident caused by someone else's negligence or recklessness, contact a Virginia car accident attorney to discuss what legal options you may have against the at-fault party. Our legal team will work diligently, using all available resources, to get you the financial compensation you deserve for your injuries. We have successfully represented many burn victims and their families who have suffered horrific losses. 
Call Shapiro, Washburn & Sharp today to schedule a free and confidential case evaluation to find out what legal recourse you may have for the losses you have suffered.
RELATED CONTENT