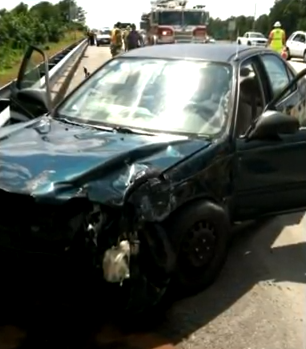 If a seat belt is used in the correct fashion, it has been proven to reduce the risk of fatal injury in a crash by up to 44%.  If you're driving in an SUV, pickup truck, or mini-van, that lifesaving potential increases to over 60%.  In 2005, approximately 15632 lives were saved by seat belts across the country.
The Law
Every driver and occupant of a vehicle being operated on public streets and highways in South Carolina must be wearing a safety belt.  Unlike other states, this law applies to passengers in the front and back seats of the vehicle.
The driver is responsible for ensuring that all passengers under the age of 17 are wearing seat belts or are properly fastened into a child restraint system.  If someone under the age of 17 is not, the driver will receive a ticket.  Violation of the seat belt law is a $25 fine.
Drivers are not, however, responsible for occupants who are over 17.  Those occupants will receive tickets in their own name, not the driver's.
South Carolina is a Primary Enforcement State
 Since December 9, 2005, South Carolina has been a "primary enforcement" state.  This means that a police officer who witnesses a driver or passenger on the road without his seat belt on may pull the vehicle over for that reason alone.  In "secondary enforcement" states, like Virginia, the officer must witness some moving violation before pulling the car over.
The great benefit of the primary enforcement law is the expected increase in seat belt usage among South Carolina residents.  The National Highway Traffic Safety Administration estimates that upgrading from a secondary to a primary enforcement law causes an increase of about 11% in seat belt usage.  In South Carolina, where pre-change usage was about 70%, we can expect that seat belt usage will increase to about 81%. 
This increase in seat belt usage ought to prevent 64 deaths and 650 serious injuries annually.  In addition, it should save the state (and its' taxpayers) about $140 million in emergency vehicle and other crash-related costs each year.
Special Exceptions
There are several exceptions under South Carolina law:
·          Drivers or occupants who have a written note form their physician stating that he is not able to wear a seat belt for physical or medical reasons;
·          Medical or rescue personnel attending to the injured or sick individual in emergency vehicles;
·          School, church, and day care buses;
·          Public transportation (except taxis);
·          U.S. mail carriers;
·          Parade participants;
·          Driver or occupant in a vehicle not originally equipped with a safety belt.
Effect on Driving Record
A seat belt violation is not reported on your permanent driving record at the South Carolina Department of Motor Vehicles, nor is it reported to your car insurance carrier.