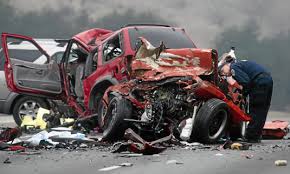 Wrong way driving is legally defined as traveling in a direction opposite to the legal flow of traffic on a divided street or highway, or on exit/entrance ramps to a highway. Statistically, wrong way accidents are not as common as other types of crashes, but the damage and injuries they cause are often devastating. Because many of these crashes occur at high speeds, the injuries suffered are often catastrophic. According to the Federal Highway Administration (FHWA), there are approximately 400 people killed in wrong way crashes every year, with thousands more left severely injured.
LEARN MORE
Because of the force of the impact when the wrong way driver slams into another vehicle, the injuries victims suffer often include the following:
Brain injuries
Burns
Crushed or fractured bones
Internal bleeding
Organ damage
Paralysis or other spinal injuries
Death
Factors that Cause Wrong-Way Crashes
The primary reason for wrong way crashes is attributed to driver error. There are several reasons why this error occurs. Driver confusion is one common cause. This is often the case when the at-fault driver is elderly, however, it can also happen if the driver is unfamiliar with the area he or she is driving in. Other common factors include distracted driving, poorly designed roads, or bad weather that hampers a driver's ability to see.
However, the most frequent cause of wrong-way crash – and probably the most preventable – is when the driver of the vehicle traveling in the wrong direction is intoxicated, either under the influence of alcohol and/or drugs. National statistics show that approximately 75 percent of wrong-way accidents are caused by drivers who have a blood alcohol level twice the legal limit.
Virginia law allows for victims of accidents to pursue damages for the losses they have suffered against the at-fault party. A victim can receive financial compensation for medical expenses, lost wages and benefits, emotional anguish, and pain and suffering. When injuries have left the victim permanently disabled, they may also be entitled to compensation for loss of future income, loss of life enjoyment, scarring, disfigurement, and any other losses the courts deem appropriate.
When the behavior of the at-fault driver is especially egregious, then they may also be ordered to pay the victim punitive damages. The purpose of punitive damages is two-fold. First, it is meant to punish the at-fault party for their unsafe behavior that caused the accident and second, it is to send a message to society that this type of behavior will not be tolerated. If the driver in a wrong way crash has a high blood alcohol level, the court will likely award the victim punitive damages as part of the final award.
Contact a Virginia Personal Injury Attorney for Help
The legal team at Shapiro & Appleton has been advocating for injured victims and for more than 30 years. We understand how devastating – both physically and financially – wrong way crashes can be for victims and their families. Our Virginia car accident attorneys have built solid reputations for working diligently for our clients to obtain the best possible financial outcome based on the circumstances of your case. Call our firm today at (833) 997-1774 to set up a free case evaluation and find out how we can help.