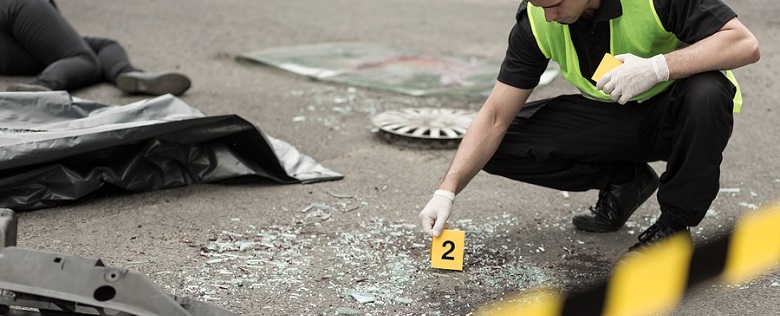 Any vehicle accident can result in serious injuries for those involved, but tractor-trailer accidents are often devastating, leaving victims with catastrophic injuries that many just do not survive. Truck accident investigations can determine the cause of the crash, which will also determine who is responsible for the financial and other losses victims and their families suffer.
Truck Accident Investigation
The first thing law enforcement does at truck accident site – after helping victims – is secure the crash scene. They will then begin taking notes of the different things they see, such as skid marks, vehicle fluids, and any debris from the crash. Using this and other evidence found, the accident investigation team will reconstruct the crash site to determine what caused the accident.
RELATED CONTENT
Although the police who conduct the investigation are trained and usually experienced in accident reconstruction, the reality is that there is always a possibility that a relevant or critical factor will be overlooked. In many cases, it may be impossible to recreate the scene to fully evaluate what happened and police need to rely on witness statements to make their determination, however, different witnesses may have different accounts of what they saw.
In addition to law enforcement, the trucking company's insurance company will also conduct their own investigation to determine fault. They will likely be looking for factors that would minimize the degree of fault their client has since it is this degree of fault which will often determine how much financial compensation a truck accident victim is entitled to.  
This is why all accident victims should retain the services of their own North Carolina truck accident attorney, who will also conduct a truck accident investigation. Your attorney will work diligently to protect your rights and get you the financial compensation you deserve for the injuries you have suffered. Your attorney may also extend the investigation into obtaining evidence directly from the trucking company. Your Carolinas accident attorney can request the following information about the truck driver:
Driving record
Employment history
All drug and alcohol testing results
Service hours records
Road test results
Training history and certificates
Annual reviews
Medical certifications
Licenses
Employment application and personnel record
Your attorney can also request the following information regarding the truck involved in the crash:
Maintenance records
Accident history involving the truck
Contact an NC Injury Attorney Today
If you or a family member has been injured in a truck accident, contact a seasoned North Carolina truck accident attorney to discuss what legal recourse you may have. Even if it is not entirely clear who is the at-fault party, a Carolinas injury attorney will be able to determine which party or parties are liable. At Shapiro & Appleton, our injury attorneys have represented numerous truck accident victims and have the legal expertise to handle these complex cases with positive results.