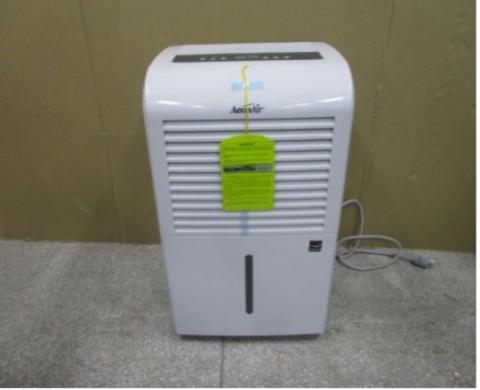 The U.S. Consumer Product Safety Commission (CPSC) recently announced a recall of more than two million dehumidifiers that were sold under multiple brand names due to the risk of the appliances catching fire while in use. According to the recall notice, there have been more than 100 incidents reported to the agency.
The summer months can be especially hot and humid in Virginia. Research shows that Virginia summers have become even muggier each year due to climate change. All this extra humidity is not only uncomfortable, but it can also be unhealthy. The extra moisture in a home can foster allergy triggers, such as dust mites and mold. This can cause a trigger of symptoms for people who suffer from asthma or allergies, such as wheezing, coughing, and chest pain. Mold, especially, can also cause structural damage to a home.
This is why many people depend on dehumidifies to remove the extra moisture and help keep their environment drier. By removing moisture from the air, a dehumidifier can reduce a home's humidity level by 30 to 50 percent.
Risk of Fire
On August 4th, the CPSC announced it was recalling 2.4 million dehumidifiers manufactured by New Widetech because of multiple reports of the products overheating and catching fire. The recalled appliances were sold nationwide between February 2009 through August 2017. There have been at least 107 reported incidents that have caused approximately $17 million in property damage.
The 25-to-74-pint dehumidifiers were marketed under more than 20 different brand names, including AeonaAir, Danby, Friedrich, Honeywell, and Whirlpool, and sold at retailers such as Costco, Lowe's, Menards, and Walmart. A complete list of the brand and model numbers being recalled can be found on the CPSC website. Consumers are advised to immediately stop using the dehumidifiers and contact the company for a refund that will be pro-rated depending on the product's age.
Defective Product Lawsuit
When a victim is injured due to a defective or dangerous product, they may be able to collect financial compensation for the losses those injuries have caused. Some of these losses include medical expenses, loss of income if they are unable to work while recovering from their injuries, pain and suffering, and emotional anguish. They may also be able to recover damages if they are left with a permanent disability, scarring, or disfigurement.
When pursuing a defective product claim, it is best to have a Virginia personal injury attorney representing you. These cases can be complex, especially given the four legal elements that must be proven in order to be successful:
The product was defective
The victim was using the product as it was intended to be used at the time the injury occurred.
The victim sustained an injury.
The product caused the injury.
Let Our Firm Help
If you or a loved one has suffered burn injuries from an accident caused by someone else's negligence or recklessness, contact a Virginia product liability attorney to discuss what legal options you may have against the at-fault party. Our legal team will work diligently, using all available resources, to get you the financial compensation you deserve for your injuries. We have successfully represented many victims and their families of defective product incidents who have suffered horrific losses. Call Shapiro, Washburn & Sharp today to schedule a free case evaluation.
RELATED CONTENT