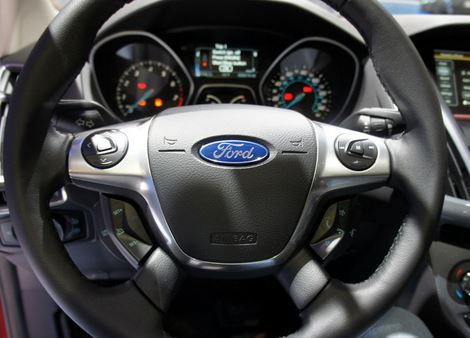 Another vehicle recall has been announced, this time involving steering wheels which may come off!
Ford Motors announced that they are recalling 1.4 million vehicles in North America after it was determined that bolts on the steering wheel can become loose, which could cause the driver to lose control of the vehicle, resulting in an "increased risk of a crash."
The affected vehicles are Ford Fusion and Lincoln MKZ that were manufactured between 2014 through 2018. The majority of the affected vehicles are in the U.S., with approximately 80,000 vehicles in Mexico and Canada.
The company says it knows of two accident caused by the dangerous issues, however, the National Highway Traffic Safety Administration (NHTSA) has received multiple reports from vehicle owners of incidents were the dangerous issue occurred.
Many of these complaints describe the same scenario, where the driver is traveling along when they suddenly lose control of the steering, including cases where the steering wheel itself detaches from the vehicle.
Ford claims they only recently learned of the issue, but records show that the company began receiving complaints three years ago. In 2015 alone, the company received 137 complaints from consumers related to the issue. The number of complaints spiked last year, prompting the company to finally take action.
This recall comes shortly after another Ford recall over door-latch issues, where the latches fail and the doors fly open while the vehicle is turning.
Dangers of Recalled Vehicles
Not only are commuters at risk of being injured or killed in a crash caused by a defective vehicle, but studies show that many vehicle owners ignore or unaware of recall notices on their vehicles. Nationwide, approximately 35 percent of recalled vehicles have not been repaired. Estimates put the number of unrepaired recalled vehicles in Virginia at over one million.
If a victim is injured in a crash caused by a defective or dangerous part, a Virginia car accident attorney will investigate to determine who the at-fault party really is. The attorney may pursue damages against the vehicle manufacturer, however, if it is determined that a recall has been issued and the owner just never got the vehicle repaired, then the vehicle owner's negligence can be used as evidence in a claim or lawsuit filed against them. They would be liable for the victim's medical costs, loss of income, pain and suffering, emotional anguish, and any other losses the injuries have caused the victim to sustain.
Contact a Va. Injury Attorney
If you have been injured in a crash caused by the negligence or recklessness of another driver, contact as seasoned Virginia car accident attorney. Our legal team has successfully represented many accident victims in obtaining the financial compensation they deserved. We are happy to meet and discuss the circumstances of your case and how we may be able to help.