The Food and Drug Administration has announced that a recall has been issued for almost 600,000 asthma inhalers. The recall has been issued because there may be potential issues with the delivery system.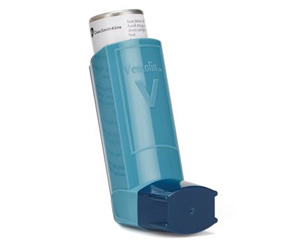 The inhalers are manufactured by GlaxoSmithKline and involve the Ventolin HFA 200D inhalers. Affected lot numbers are 6ZP0003, 6ZP9944, and 6ZP9848. These inhalers are being recalled from hospitals and pharmacies, as well as wholesalers and retailers who sell the devices. At this time, it is not a consumer recall.
According to a spokesperson from the manufacturer, the company has received complaints that the pouches that contain the inhalers become inflated because there is a leaking of product. This leakage could cause failure of the inhaler to show the correct number of doses on the dose counter, leaving the consumer with less medication than is showing.
Defective Product Dangers
Thankfully, the makers of this product have caught the potentially dangerous issue with this inhaler before any consumers suffered adverse effects from the leakage issue. Imagine if a person who depends on this product to keep their airways opened during an asthma attack, thinking they had enough medication inside the inhaler, only to discover the dose counter is wrong and they have no medication left.
Tragically, our personal injury firm has reported on countless number of victims who have suffered from serious – often fatal – injuries or illness due to a defective medication or other type of consumer product. What often makes these cases even worse is when it is uncovered time and time again that the manufacturer was well aware of the dangers of their product, but instead of warning consumers, they chose profit over safety and covered up these dangers, leaving hundreds of thousands of consumers unprotected and at risk.
Some companies continue to sell their products without warning the public of the potential dangers even after juries have awarded victims millions of dollars in damages. This is the case with Johnson & Johnson. Multiple lawsuits, along with multiple studies, have shown that their talcum powder products can cause ovarian cancer, yet the company still refuses to put any kind of warning on their products.
Contact a Defective Product Injury Attorney Today
If you have suffered an illness or injury caused by a defective or dangerous product, contact a skilled North Carolina medical product recall attorney to discuss what legal recourse you may have against the manufacturer or other potential responsible parties.
Our Carolinas injury attorneys have successfully represented many clients and their families who have suffered tragic losses because of a manufacturer's negligence and will aggressively advocate for you to ensure that you receive the compensation you deserve for your pain and loss.