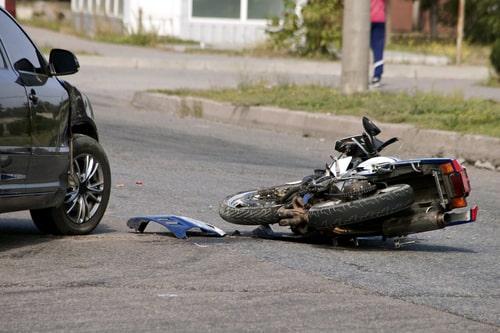 The driver of a scooter was seriously injured when the driver of an SUV failed to yield at an intersection and crashed into the scooter. The SUV driver pulled onto Highway 11 in Duplin County, attempting to get back onto Interstate 40. The driver of the scooter was traveling east on Highway 11 when the SUV drove right in front of him. The scooter driver slammed on his brakes in an attempt to stop but crashed right into the SUV. Then the woman driver of the SUV drover over the man and the scooter.
According to the state trooper investigating the crash, the SUV driver was traveling at about 15 to 20 m.p.h. when the accident occurred. Given the victim's condition, police could not move him until emergency crews arrived and had to shut down both Interstate 40 and Highway 11 for about 30 minutes. The victim was airlifted to New Hanover Medical Center in Wilmington, where he was listed in serious condition. The SUV driver was cited for failure to yield at a stop sign.
Motorcycle and Scooter Accident Injuries
Driving can be dangerous enough when you are traveling in a car. But when you are on a motorcycle or scooter, the risk of injury or death spikes dramatically. Unlike a passenger vehicle, which offers walls of steel and multiple safety features that help protect occupants, motorcycles offer absolutely no protection in the event of an impact with a vehicle or object.
Tragically, despite the many innovations in motorcycle safety that have been developed over the past two decades, the number of victims killed and injured in motorcycle accidents has not decreased. The serious injuries riders sustain can result in high medical expenses, lost income, and months of painful recovery and rehabilitation. Many victims are left with permanent disabilities that greatly affect their quality of life.
Costs of Motorcycle Injuries
Studies have shown that the average cost of treating motorcycle accident injuries is double that of the average cost of treating other types of vehicle accident injuries. Because the injuries are often more severe, motorcycle accident victims usually have higher medical expenses and longer recovery time, which means more time missed from work and no income.
Rate of Motorcycle Injuries
There is also an obvious higher rate of injuries in motorcycle crashes than there is in motor vehicle accidents. According to national data, for every 100,000 registered motorcycle owners, 2,194 are injured in motorcycle accidents. Out of 100,000 registered car owners, 718 owners are injured in car accidents. The lack of protection, as well as the lack of wearing helmets and other protective gear, contributes to these disproportionate statistics.
Contact a Carolinas Injury Attorney Today
Some of the most frequent injuries that clients of North Carolina motorcycle accident attorneys suffer include brain injuries, broken bones, paralysis, and spinal trauma. Our accident attorneys understand that the injuries motorcycle accident victims sustain often leave them with permanent disabilities that not only create physical limitations but also result in significant financial losses.
If you or a loved one were injured in a motorcycle accident, it is critical not to delay contacting the legal team at Shapiro, Washburn & Sharp because North Carolina injury laws have strict rules regarding how long you have to file your personal injury claim. If the statute of limitations expires, you will be unable to collect financial damages for any medical expenses, loss of income, pain and suffering, or any other losses you or your family may be entitled to. Call our office today at (833) 997-1774 to find out how we can help.
RELATED CONTENT