Buses are one of the biggest vehicles on the road. Due to their size, Virginia bus accidents are capable of causing significant damage to surrounding vehicles and their occupants should they be involved in a collision. The passengers on a bus can also be seriously injured in an accident, whether other vehicles are involved or only the bus, like in a rollover. 
Public transportation is a cost-effective and convenient way for everyone from senior citizens to school children to get around. Riding a bus should not be dangerous, but a distracted or unqualified driver or a bus that has not been properly maintained can cause an accident with life-altering consequences for a lot of innocent people.  
Will the type of bus that caused my accident affect my personal injury claim?
If the worst happens, and you are involved in a bus accident, a Virginia bus accident lawyer from Shapiro, Washburn & Sharp can help you defend your rights to pursue financial compensation for your injuries.
Common Types of Virginia Bus Accidents
An experienced bus accident lawyer will know that there are many scenarios that can lead to a bus accident. The severity of the collision and any resulting injuries will depend on the accident type, such as:  
Wrong-way collisions

Lefthand turn accidents

Wide-turn or merging accidents

Failure to yield 

Failure to obey

Speeding

Accidents involving pedestrians or cyclists
A bus' construction makes it more prone to accidents. Buses have wider blind spots and a much higher center of gravity than a standard passenger vehicle. In addition, they have an extremely wide turning radius and need more room to come to a stop, which is why cutting off a bus in traffic can be so dangerous. In one recent year, 15,000 bus accidents took place causing injuries to roughly 25,000 people and resulting in the deaths of more than 230.  
Virginia bus accidents tend to be far more complex than an accident involving two private passenger vehicles. This is partially due to the higher number of people involved in the crash and because the bus company or the city that manages the bus system might have contributed to the accident.  
Most people do not realize how many different kinds of buses there are, and that, when it comes to Virginia personal injury claims, the laws surrounding a personal injury suit may vary by bus type. Our bus accident attorneys can offer you skilled legal representation regardless of what type of bus or bus accident caused your injuries.
School Bus Accidents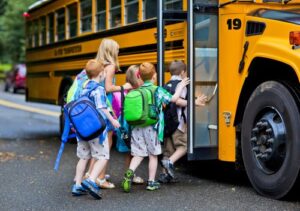 Hundreds of thousands of families across the United States rely solely on their local school bus for their children's access to education, and after-school care and activities. Parents trust that the school bus will safely deliver their children to school and return them safely home afterward. Sadly, school bus accidents are not uncommon. When an accident involving a school bus occurs, innocent children are often injured.
In a case such as this, your bus accident lawyer could name the bus operator as the primary defendant for the crash and name the school district as the secondary defendant. Right now, a lot of school districts nationwide are experiencing a bus driver shortage, which could indicate that not all of the district's bus operators were properly vetted or trained before they were hired and put on the road. 
Public Transit Bus Accidents
Public buses are a useful and affordable mode of transportation. They are frequently used by daily commuters, those who don't drive, and the more environmentally conscious. 
A city bus driver usually drives several hundred miles each day, traversing numerous types of road surfaces, while sometimes dealing with inclement weather and construction zones. All of these miles eventually take their toll as city buses undergo more wear and tear than almost any other kind of vehicle. 
The municipalities or cities in charge of managing the bus routes are also responsible for ensuring that each bus is in safe condition for use. Poorly maintained vehicles are unsafe to drive and can lead to an accident that the operator might not be able to avoid.
In this case, your Virginia bus accident attorney would most likely look to the driver and the city for liability by reviewing the operator's safety training records as well as the bus' maintenance records. Your bus accident attorney will also question any third-party maintenance technicians who might have not serviced or fixed the bus properly. 
Freight Bus Accidents
Freight buses transport freight, not passengers. They are specifically built to carry heavy loads. Freight buses often have lengthier routes than buses designed for mass transit, and they travel along interstates from one city to another at much greater speeds. 
Freight buses require more distance to come to a full and complete stop because the additional weight they carry creates more inertia. The freight they carry can shift in transit, particularly when it makes sharp turns or is traveling along an uneven or windy roadway. Unbalanced freight increases the likelihood of a rollover accident, and a freight bus that is overloaded can cause serious injuries if it is involved in an accident. 
If you are injured in a freight bus accident, your bus accident lawyer might be able to identify multiple defendants who share liability for the crash, including the operator, the company that owns the bus, and the shipping company responsible for loading the bus.
Charter, Private, and Commercial Buses
A charter or private bus is a commercial bus that is available for hire for tours and expeditions for a club, group, or other organization. They also ferry students over long distances for games, tournaments, and school trips, or for private parties who want to travel together.
Although a charted motorcoach is mainly used by private businesses, just like other buses, its operation is supervised by the Federal Motor Carrier Safety Administration. This means that bus charter companies and their drivers are required to abide by strict safety guidelines.
If you were been involved in a collision with a motorcoach, your bus accident attorney will thoroughly investigate whether or not the company was obeying all applicable laws and regulations. 
Were You Injured in a Virginia Bus Accident?
Virginia bus accidents can be deadly, either at the scene or simply because someone was too badly injured to survive. Working with a Virginia personal injury attorney from Shapiro, Washburn & Sharp can help defend your rights against an unqualified operator or a reckless bus company. We can help you build a compelling legal claim and ensure the liable parties are brought to justice.  
If you or a family member were injured in a Virginia bus accident, you should consult a bus accident lawyer right away. You might have grounds to bring a suit against at-fault parties and collect financial compensation for your damages. Call our law offices today at (833) 997-1774 or via the contact form on our website. 
Related Content