A young man named Karl Erik Stager is facing a reckless driving charge after falling asleep behind the wheel of his car and caused a major accident on U.S. 29 in Culpepper, Virginia (VA).
Karl was in the northbound left lane around 7 a.m. when his 2007 Chevy HHR SUV sideswiped a 2007 GMC pickup, according to the Star Exponent.
Karl is just 21 years old with his whole life ahead of him. Unfortunately, this act of carelessness could forever alter his future.
The U.S. National Highway Traffic Safety Administration estimates that approximately 100,000 police-reported crashes annually involve drowsiness and/or fatigue as a factor, according to Drivers.com.
Roughly 1,500 fatalities and 71,000 injuries each year stem from these types of accidents with an annual price tag of $12.5 billion.
As an injury lawyer who's represented people seriously hurt in car accidents, I understand the devastation that can be inflicted in a major accident. The risks associated with driving while you're drowsy are just not worth it.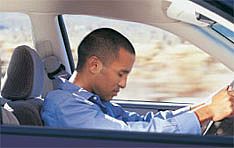 "Driving while drowsy or fatigued is something that most drivers have experienced or will experience at some point," said Greg Ciezadlo, vice president of Farmers Insurance. "We need to raise the awareness of this problem and educate drivers on how to prevent it from happening," according to Drivers.com.
Here are some tips to help ensure you don't fall asleep while driving, from about.com…
Take breaks during your drive so you can stretch, move around and wake up. Arrange breaks or even a quick 20-minute nap during your trip.
 The hours between midnight and early morning are when our body most wants to sleep. This is the most dangerous time to be driving.
If you are yawning constantly, can't remember the last few moments of driving or cannot keep your eyes focused, pull over and take a break, or quick nap.
About the Editors: Shapiro & Appleton& Duffan personal injury law firm is based in Virginia (VA), near the NE North Carolina (NC) border and handles car, truck, railroad, and medical negligence cases and more. Order a free guide, written by attorneys, on car accident injuries in Virginia (VA). Our injury attorneys host an extensive injury law video library on Youtube . In addition, our lawyers proudly edit the Virginia Beach Injuryboard, Norfolk Injuryboard, and Northeast North Carolina Injuryboard as a pro bono public information service. Lawyers licensed in: VA, NC, SC, WV, DC, KY.
PA