So far, nearly 130 lawsuits have been filed in the U.S. in connection with the Yaz and Yasmin birth control pills. Women are suffering severe side effects such as blood clots, heart attacks, gallstones, stroke, symptoms of depression, a breast lump, sudden numbness, confusion, problems with vision, speech, or balance, chest pain, pain spreading to the arm or shoulder, nausea, and sweating. There have even been cases filed claiming women died due to taking Yaz or Yasmin.
The number of claims filed against Bayer, the manufacturer of Yaz and Yasmin, will probably continue to grow due to their initial popularity on the open market and ever-increasing evidence of a causal relation between the medications ingredients and horrendous side effects.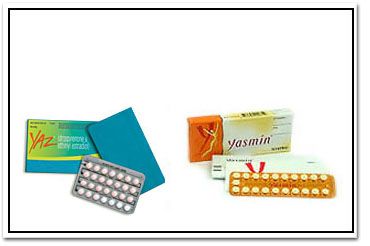 The popularity of these birth control pills has waned due to the revelation that Bayer made false proclamations in their Yaz and Yasmin television ads regarding the prescription drugs effectiveness in treating acne and PMDD (premenstrual dysphoric disorder). Bayer was forced to spend millions of dollars to clarify the misleading ads by the FDA.
Its pretty clear Yaz and Yasmin are dangerous drugs and more attention should have been paid to their effects on the female body.
Our injury firm has handled cases relating to dangerous drugs and we are outraged Bayer decided to aggressively promote and sell such risky medications to the general public.
About the Editors: Shapiro & Appleton is a law firm which focuses on injury and accident law and we have experience handling dangerous drugs and prescription drug errors. Check out our case results to see for yourself. Our law firm has offices in Elizabeth City, North Carolina (NC) and Virginia Beach, Virginia (VA). Our lawyers hold licenses in NC, VA, SC, WV, KY and DC. We are ready to talk to you by phone right nowwe provide free initial confidential injury case consultations, so call us toll free at (833) 997-1774. Our injury attorneys also host an extensive injury law video library on Youtube . In addition, our lawyers proudly edit the Northeast North Carolina Injuryboard, as well as the Virginia Beach Injuryboard and Norfolk Injuryboard as a pro bono public information service.