The wait is finally over. The injury attorneys at Shapiro & Appleton& Duffan randomly drew three names as winners of our Great Website Visit contest. The only requirement was to fill out a contest contact form.
The winner of a brand new, 42-inch television was Curtis M. of Norfolk, Virginia (VA). Curtis was so excited he drove to our office the same day we contacted him to pick up his prize (fortunately, he drove carefully–avoided any reckless driving, and did not suffer injury in the rush to our office!).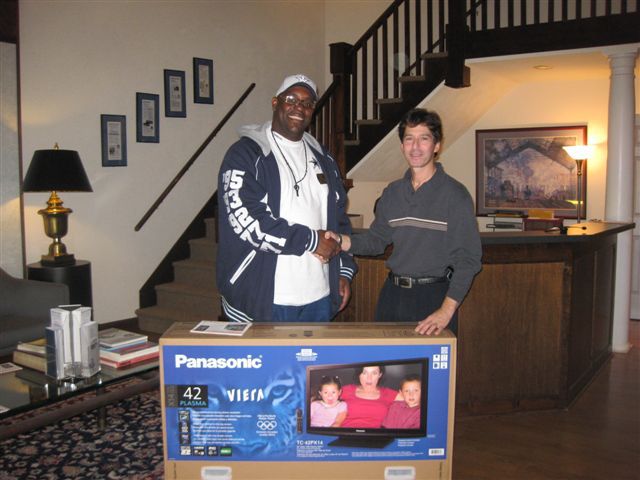 Chuck C. of Columbia, South Carolina (SC) and Matthew P. of Tazewell, Virginia (VA)each won Ipod Touch music devices.
All three of these lucky individuals do not work for the law firm and were chosen blindly from our contest entry database.
Our injury law firm was very pleased to provide these prizes to our valued website visitors. Continue to check out our site periodically for the next contest and giveaways.
About the Editors: Shapiro & Appleton& Duffan is a law firm which focuses on injury and accident law and our attorneys have handled thousands of car and truck accident cases. Check out our case results to see for yourself. In addition, check out our FREE special reports on distracted driving and The Best Guide to Car Accident injuries in Virginia. Our primary office in based in Virginia Beach, Virginia (VA) although our lawyers hold licenses in NC, SC, WV, KY and DC. We are ready to talk to you by phone right nowwe provide free initial confidential injury case consultations, so call us toll free at (833) 997-1774. Our injury attorneys also host an extensive injury law video library on Youtube . Furthermore, our lawyers proudly edit the Virginia Beach Injuryboard and Norfolk Injuryboard as a pro bono public information service.
PA