Interstate 85 (I-85) is one of the deadliest stretches of highway in South Carolina (SC). That's what the statistics indicate given 354 traffic fatalities occurred on 85 in 2007, even though it's shorter than Interstate 95 (I-95) and Interstate 20 (I-20) which also go through the Palmetto State.
There were 327 traffic deaths on I-20 and 285 deaths on I-95, according to independentmail.com. The condensed size of I-85 may actually be a factor in the high death toll. Close to 50,000 vehicles travel on I-85 every day making it a veritable ticking time bomb for car accidents.
Even more terrifying is the fact that the numbers are projected to get worse since traffic is expected to double by 2025 (it increased 45 percent from 1990 to 2007).
This is a major issue for the South Carolina community.  To have close to 1,000 traffic deaths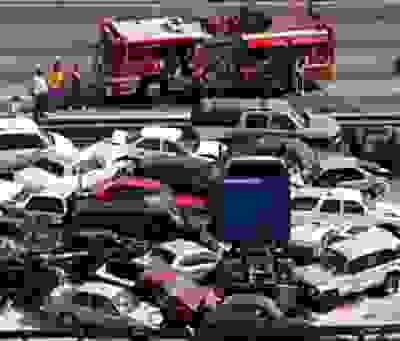 of your three major highways is a serious problem.
So what can be done? First, there needs to be an investment in additional highway patrol and traffic monitoring to ensure traffic laws are being obeyed. This may help prevent accidents caused by speeding and reckless driving. I know this is a challenge given the precipitous drop in state revenue in the down economy, but it's an noteworthy investment the public can rally behind given it's focused on traffic safety and accident prevention.
Second, South Carolina needs to implement a restriction on texting while driving. North Carolina has already adopted a texting law but South Carolina has failed to follow suit.  Distracted driving in general is a major cause of traffic fatalities and texting while driving is quickly turning into an epidemic (check out our FREE special report on distracted driving, including info on texting while driving).
If South Carolina can implement these two suggestions, it could help reduce the ever-escalating number of traffic deaths on their major highways.
About the Editors: Shapiro & Appleton is a law firm which focuses on injury and accident law. Our law firm has offices in Elizabeth City, North Carolina (NC) and Virginia Beach, Virginia (VA). Our attorneys have handled thousands of automobile negligence cases involving cars, trucks, trains, and motorcycles. We would be pleased to send you one of our FREE reports about car accident cases, including our special report on distracted driving or our Best Guide to Car Accident Injuries in North Carolina. Our lawyers hold licenses in NC, VA, SC, WV, KY and DC. We are ready to talk to you by phone right now-we provide free initial confidential injury case consultations, so call us toll free at (833) 997-1774. Our injury attorneys also host an extensive injury law video library on Youtube .  In addition, our lawyers proudly edit the Northeast North Carolina Injuryboard, as well as the Virginia Beach Injuryboard and Norfolk Injuryboard as a pro bono public information service.
PA