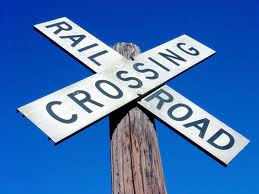 It's dark and starting to rain.  Squinting through your windshield your car slows to a stop.  You have just begun to move forward when suddenly your head slams against the window, the airbag deploys and everything goes black.  Across the United States there are more than 140,000 thousand train crossings.  Crashes just like the one described above account for 31 percent of railway fatalities, killing someone in the U.S. every three days. 
The Virginia (VA) railroad accident attorneys at Shapiro & Appleton know that most train crossing accidents don't happen because the driver was trying to "beat" the train.  At passive rail crossings, with no flashing lights or descending gates, drivers are expected to listen and look for oncoming trains. At many such crossings, however, drivers don't have a clear view.  This was the case for one of our clients who was driving over a Norfolk Southern railroad track crossing when a freight train suddenly appeared and slammed into the rear left of his car, violently spinning the car off into a ditch injuring him and his two small sons.
In a study of collisions at train crossings from 2001 through 2005, sight obstruction was found to be a condition at the scene of 689 crashes that resulted in 87 deaths and 242 injuries.   States have been slow to adopt laws requiring regular inspections of railroad crossings and removal of obstructions. According to the last survey by the Federal Railroad Administration, 31 states had no regulations at the end of 2009.
Active crossings equipped with flashers and gates could be made safer, too. The biggest factor in crashes at these sites is too-long warning times — longer than 30 seconds — which give drivers time to become impatient and drive around the gates.  Although the driver would be at fault in the accident the goal is to stop the accidents all together.  The problem is often outdated technology the slowest trains may trigger the warnings long before they are visible to waiting drivers.
CT