A trucking accident on I-495 in Delaware revealed a violation of federal record-keeping law which is becoming common place for truckers, according to WDEL. What is this law? It's a requirement that truckers document the hours they drive and must remain within a certain number on a given day in order to prevent exhaustion and poor driving.
The U.S. Department of Transportation sets the work hours and other working conditions of truckers involved in interstate commerce, according to the Department of Labor. A long-distance trucker may drive for 11 hours and work for up to 14 hours after having 10 hours off. A driver may not drive after having worked for 60 hours in the past 7 days or 70 hours in the past 8 days unless they have taken at least 34 consecutive hours off.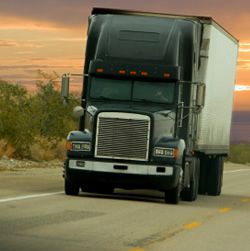 The trucker in this accident, who is from North Carolina (NC), violated the law by altering the number of hours he was working in order to drive longer hours than is permitted. This is an all-too-common practice in the trucking industry since driving more hours means more pay for the trucker.
I understand the desire to work more hours to make a few extra dollars, but when you're a trucker, this practice cannot be allowed. Handling such dangerous equipment on public highways requires a high level of mental attentiveness. Driving for a protracted period of time invariably leads to fatigue, which increases the risk of an accident.
As we see from this I-495 accident, driving too long leads to a decrease in driving ability and the results can be devastating. The truck clipped a car on Edgemoor Road and the driver of the car was injured. This may have been avoided if the trucker had stayed within the legal hourly limits.
About the Editors: Shapiro & Appleton is a law firm which focuses on injury and accident law and we have experience handling truck accidents. Check out our case results to see for yourself. Our law firm has offices in Elizabeth City, North Carolina (NC) and Virginia Beach, Virginia (VA). . Our attorneys have handled thousands of automobile negligence cases involving trucks, cars, trains, and motorcycles. Our lawyers hold licenses in NC, VA, SC, WV, KY and DC. We are ready to talk to you by phone right nowwe provide free initial confidential injury case consultations, so call us toll free at (833) 997-1774. Our injury attorneys also host an extensive injury law video library on Youtube . In addition, our lawyers proudly edit the Northeast North Carolina Injuryboard, as well as the Virginia Beach Injuryboard and Norfolk Injuryboard as a pro bono public information service.
PA