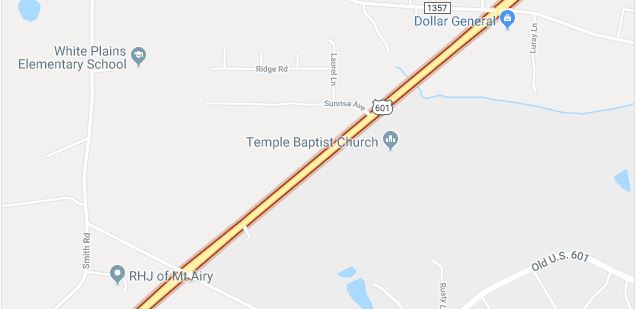 According to state statistics, there has been almost 250 car crashes on Rockford Street (U.S. 601) in Mount Airy over the past four years. In addition to numerous victims injured, the accidents resulted in three fatalities. The North Carolina Department of Transportation says that the crash rate in this area is almost twice as high as the state's average.
There are many different reasons why car accidents happen. At our North Carolina personal injury law firm, we have represented a countless number of injured clients in our more than 30 years practicing injury law and are well versed in the many different negligent behaviors at-fault drivers exhibit. Some of the more common types of causes our injury attorneys have seen include:
Distracted Driving
It is not just cell phone use that causes distracted driving accidents. According to studies conducted by the National Highway Traffic Safety Administration (NHTSA), talking on a cell phone (or with a passenger who is in the vehicle) are responsible for just under 20 percent of distracted driving accidents. Other activities, such as applying makeup while driving, eating, or attempting to retrieve some item are responsible for almost 40 percent of these types of crashes.
Drowsy or Fatigued Driving
Law enforcement has seen an alarming increase in the number of drowsy driving crashes. In today's society, people just do not get enough sleep each night. Experts have concluded that drowsy driving is just as deadly as driving under the influence of alcohol or drugs.
Driving under the Influence
Drunk or drugged driving is responsible for killing more than 10,000 people each year and injuring thousands and thousands more. As the drug epidemic explodes in this country, so do the number of drugged driving accidents, including the new phenomena of overdosing while driving.
Aggressive Driving
Aggressive driving and road rage is another cause of many car crashes. A driver who displays aggressive driving behaviors do things such as cutting off other drivers, jumping from lane to lane, refusing to let another vehicle merge, and excessive speeding. This type of driving is the cause of almost 70 percent of all car accident deaths.
Disobeying Traffic Laws
There are several traffic laws that are frequently broken that result in car crashes. Speeding is one of the most common and is responsible for 30 percent of all vehicle accidents. Not obeying traffic laws at intersections – failing to stop or yield when another driver has the right-of-way, and not stopping at red lights or stop signs are also common factors in crashes.  
Contact a North Carolina Injury Attorney
If you have been injured in a crash caused by a driver who was speeding, contact a North Carolina car accident attorney to see what type of financial damages you may be entitled to. The legal team from Shapiro & Appleton have been advocating for injured clients since 1985 and will do all we can to ensure you receive the best possible outcome under the circumstances of your case. If you would like to meet with one of our skilled North Carolina car accident attorneys to find out how we can help, call us today at (833) 997-1774 for a free case evaluation.