What Happened:
A Virginia (VA) truck driver was going the speed limit on I-81 when he turned a corner on the interstate towards the foothills of the Blue Ridge Mountains and saw traffic completely stopped.  He intentionally steered his 18-wheeler, fully loaded with mulch, off an interstate and into the guardrail to avoid crashing into the multiple stopped vehicles.  The first vehicle he would have struck had an 8-year old child in the bseat.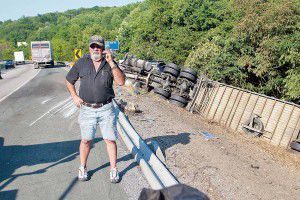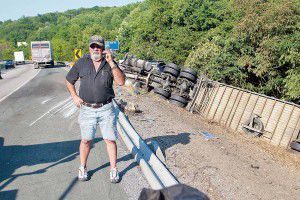 The Virginia Injury Lawyer's Perspective:
As an experienced Virginia (VA) truck injury attorney I'd like to first offer kudos to the quick thinking of the truck driver.  Thankfully despite a horrific crash seen the truck diver escaped with only minor injuries and no other drivers were hurt.  This is similar to another truck accident case we handled in which a truck rear-ended a family's car.  
However this truck driver wasn't paying attention and did not avoid the car.  The impact from the truck-car accident collision was so severe the front seats of our clients' car collapsed backwards. The trunk of the small car was smashed into the passenger compartment of the car driving the little girls into the head rests on the top of the front seats, causing traumatic brain injuries to each girl.  We were able to obtain a $21 Million settlement for the family.  Truck accidents are often fatal and I wish all truck drivers were as defensive as the I-81 truck driver.
Potentially Helpful Info:
Take a moment to read our truck accident injury consumer guide so you're fully informed and know how to combat tactics of the trucking company and their insurance company.
Have Questions? Check Out Our Firm's FAQs:
Find out answers to questions about truck accident injuries.
CT