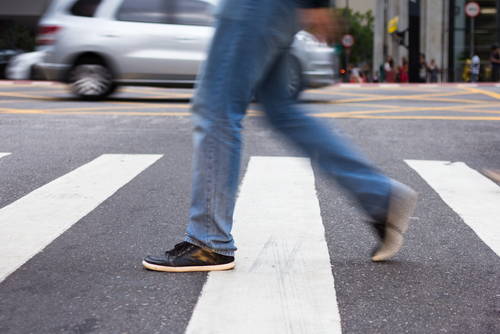 Roanoke Police have been searching for the vehicle that caused a fatal hit and run pedestrian accident on September 3rd at Salem Turnpike and Calvary NW. Albert Cager, Jr. 55, was killed at approximately 6:00 pm as he was crossing the street to check his mail. Police have now announced that they have located a vehicle that has been covered in a tarp that matches the description of the vehicle that killed the victim.
According to surveillance video and witnesses, a white- or cream-colored sedan was traveling east on Salem Turnpike NW, crossed the double yellow line, and plowed into Mr. Cager. Instead of stopping, the driver took off down the turnpike. Roanoke Fire-EMS transported the victim to Carilion Roanoke Memorial Hospital where he later died from the injuries he suffered in the crash.
On September 10th, Roanoke Police filed a search warrant requesting owner records of any white, cream, or ivory 1992-1997 Cadillac Seville that were registered in Roanoke. The suspected vehicle was later identified as a white 1994 Cadillac Seville SLS.
LEARN MORE
Hampton, VA Hit-and-Run Leaves 3 Women Injured
On Monday, police announced they found the car they believe was involved in the fatal accident behind a home on 13th Street SW, near Salem Avenue. The Cadillac was covered with a tarp and had damage that could have come from striking a pedestrian. They are still looking for the person who was driving the vehicle when it hit Mr. Cager.
Criminal and Civil Charges
When the driver is finally located by police, he or she will likely face several criminal charges. In Virginia, every driver has a duty to stop when they are involved in any type of vehicle accident involving injury or death. A driver who fails to stop and render assistance could be charged with a class 5 felony. A conviction can mean both jail time and hefty fines.
Regardless of whether or not the driver is charged and/or convicted, they can also face civil action for their liability in causing the victim's death. When a victim is killed or dies from injuries that are the result of the negligence or misconduct of another, Virginia law allows surviving members of a victim's family to sue for the wrongful death of their loved one.
Wrongful Death Damages
Some of the damages that can be pursued in a wrongful death lawsuit include:
Expenses: Financial compensation for the costs of the medical treatment the victim may have received prior to their death, funeral, and burial expenses
Emotional Anguish: Financial compensation for the emotional suffering, grief, and sorrow the victim's death has caused the family to suffer
Loss of Support: Financial compensation for the loss of income, benefits, and services the victim provided and/or would have provided their family in the future
Loss of Guidance: Financial compensation for the personal losses the family will suffer without the victim's love, companionship, and support
Punitive Damages: In some cases, a judge or jury may award the family punitive damages if they find the at-fault driver's conduct was willful or wanton or their behavior was so reckless that it showed a conscious disregard for the safety of others. Virginia does put a cap of $350,000 on the amount of punitive damages that can be awarded.
Contact Our Wrongful Death Law Firm Today
Families who have lost a loved one due to the negligent or reckless actions of another person should consider contacting a Virginia wrongful death attorney to discuss what legal recourse they may have for their pain and loss. Our legal team will work diligently to get your family the financial justice you deserve.
Shapiro, Washburn & Sharp also offers a free wrongful death guide for families who have lost a loved one in an accident. The guide covers topics such as the statute of limitations for filing a wrongful death claim, what types of damages can be pursued, and who can be appointed as personal representative.
RELATED CONTENT