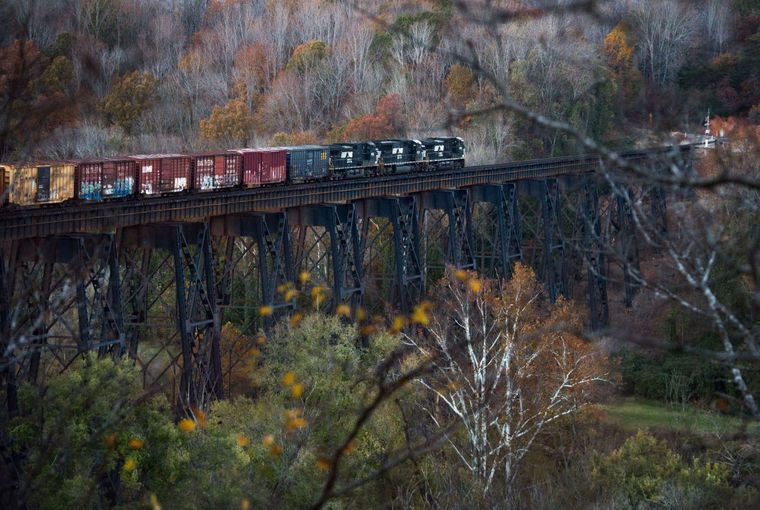 A train trestle over the James River near Lynchburg, Virginia (VA) offers beautiful views of the river 200 feet below, as well as the surrounding countryside. That is why it attracts so many train enthusiasts and nature lovers every year.
But this train trestle in has been proven to be highly dangerous because trespassers have nowhere to go when a freight train comes through. The latest death involved a 21 year-old college student at Liberty University last Saturday.
Even though the trestle has fences, no trespassing signs and warning signs, two college students walked out on the trestle, when a Norfolk Southern Railway came through.
The man was pronounced dead at the scene, and the other, a woman, was taken to Lynchburg General Hospital with minor injuries.  Over the years, at least 13 people have been killed on this trestle since 1969 and many were college students.  The latest death has spurred debate about how to prevent trespassing on the beautiful but deadly trestle. Also, whose responsibility is it to pay for it?
A Norfolk Southern spokeswoman stated that the firm is under no legal obligation to change safety measures on the trestle.  Members of the National Railway Historic Society's Blue Ridge Chapter gathered recently to talk about how to boost safety on the trestle. Some said that the railroad company should consider adding a walkway parallel to the track so that people can jump off if a train comes.  Others suggested adding motion sensor alarms, speed restrictions for trains and also security cameras.
However, there was general agreement that people need to not break the law and walk out onto the trestle. It also was noted that the trespassers are putting the trains at risk of derailment because the engineers have to apply emergency brakes in such situations.  In our work as train crash personal injury lawyers in Virginia, we have seen many accidents caused by railroad company negligence. But there is no excuse at all for people to trespass on a train trestle. This is highly dangerous behavior that risks not only the lives of the trespassers but those on the train as well.