One man was killed in a Virginia car accident involving four vehicles in the westbound lanes of Interstate 64 near King Street in Hampton on Friday, November 11th. The deceased has since been identified as 29-year-old Lorenzo Arline II.
Another driver, 21-year-old Mauro Francisco Zamora, has been arrested and charged with reckless driving, involuntary manslaughter, operating a vehicle without a driver's license, failing to move over, and obstruction of justice. His 48-year-old passenger has also been charged with obstructing justice. Both men are currently being held without bond in Hampton City Jail.  
Reports show that at about 10:00 a.m., Zamora drove his Ford Econoline E250 van into a lane that had been shut down by the Virginia Department of Transportation in order to assist law enforcement with their investigation and clean-up of an earlier accident.
A spokesperson for the Virginia State Police said that Zamora then attempted to exit the cordoned-off lane and re-enter traffic. As he was trying to merge, he slammed into a Honda Civic, causing it to collide with an Acura ILX. 
Arline, who was the driver of the Acura, lost control of the vehicle and spun across all westbound lanes of traffic. He came to an uncontrolled stop when the Acura crashed into a VDOT Ford F250 pickup truck that was assisting officers with the lane closure. The VDOT vehicle was unoccupied at the time of the accident.  
The driver of the Honda Civic was unharmed. 
Arline was transferred by paramedics to Riverside Regional Medical Center in serious condition and pronounced dead upon arrival. 
We offer our deepest sympathies to the friends and family of Mr. Lorenzo Arline II. 
Wrongful Deaths Caused by Virginia Car Accidents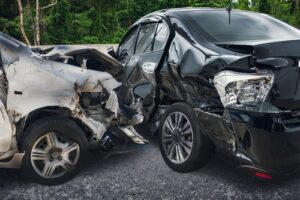 Losing someone you love, no matter how it happened, is agonizing. Unfortunately, those feelings of grief and despair tend to be magnified when their death was the result of an avoidable accident. It is important to keep in mind that not every accident fatality constitutes a wrongful death. Each case is unique and comes with its own set of obstacles. 
This is just one of the reasons you should work with an experienced and empathetic Virginia wrongful death attorney from Shapiro, Washburn & Sharp. We know the most efficient methods of identifying the cause of the accident and can offer reliable advice on the next steps you should take, such as finding proof of:   
An implied or explicit duty of care

Proof that the respondent broke the law 

Inadequate supervisory, training, or hiring procedures

Indications that the respondent knew or reasonably should have known about a dangerous condition

Documents that show negligence, carelessness, or willful misconduct
In many wrongful death cases, liability can be assigned to more than one person. In Virginia, multiple persons can be held accountable through a wrongful death suit. 
How Will My Future Damages Be Calculated?
Although things like medical and funeral costs are easy to figure out, our lawyers are proficient at estimating other damages you might experience. For example, when seeking financial compensation for lost earnings, our wrongful death attorneys might call on expert witnesses in the field of forensics to calculate how much money the deceased would have continued to earn and provide for you and your family.  
This total will then be factored into another equation that will ultimately determine how much compensation you should receive. A fair settlement offer allows you time to heal from your grief without any added financial worries.  
Will a Virginia Wrongful Death Claim Cover Medical Costs?
If your family member survived in a seriously injured condition for a prolonged period of time prior to passing away, you might be wondering if you are able to pursue justice on their behalf. 
Filing a survival cause of action in addition to the wrongful death claim can help you recover damages for medical costs, lost income, pain, and suffering. If your survival cause of action is successful, you would be paid compensation through the estate of the deceased. 
Who Can File a Wrongful Death Claim For a Virginia Car Accident?
When you hire a Virginia wrongful death lawyer from Shapiro, Washburn & Sharp to pursue your claim, we act as the personal legal representative by taking action for both the victim's estate and surviving relatives. Family members who are eligible to inherit and be listed in the claim include:
The deceased's spouse and children

If the parents are also deceased, their grandchildren can file

In the event that they had no spouse, parents, children, brothers, sisters, and grandchildren may file

Financially dependent relatives, whether by marriage, blood, or adoption, from within the household

If there are no other survivors, heirs to the estate according to

Virginia's intestacy laws

may file 
Only one wrongful death claim can be filed, so it is important to carefully consider anyone who wants to be included.  
Consult a Respected Virginia Wrongful Death Lawyer Today
If you lost a family member in a Virginia car accident, or any other negligence-based accident, contact a Virginia wrongful death lawyer from Shapiro, Washburn & Sharp today for a free review of your potential case. We can be reached at (833) 997-1774 or through our online form. Our legal team understands the devastation that follows the unexpected death of a loved one. You do not have to go through this alone. Let us put our decades of experience to work for you.
Related Content