A multi-car crash in Alabama has killed a North Carolina couple and their young son. According to the Montgomery Police, the fatal crash occurred on Interstate 65 southbound and involved seven cars and three tractor trailers.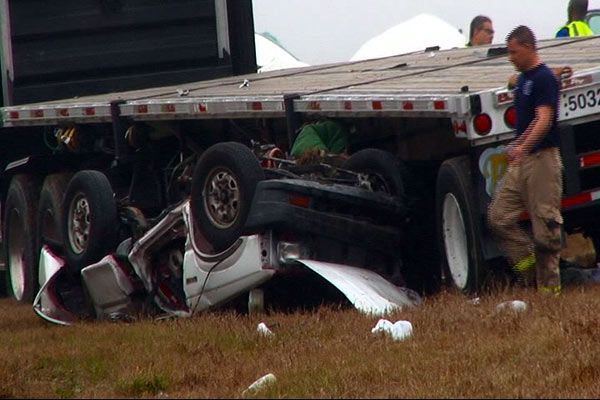 The victims, a 49-year-old woman, her 50-year-old husband, and their 10-year-old son, were from Swansboro, North Carolina. Two passengers in the vehicle were also transported to the hospital with injuries, including the couple's 8-year-old daughter. The family was on their way back from an Air Force base in Texas where they attended their older daughter's graduation from boot camp.
Police say the family was traveling in their 2012 Chevrolet Tahoe when the crash occurred. Investigators are still trying to determine what caused the deadly crash. Although the area was covered in a blanket of fog, authorities have not yet pointed to that as being a factor in the accident.
The other vehicles involved in the crash included a 1998 Kenworth tractor-trailer, a 1992 Mazda pickup truck, a 2002 Honda Civic, a 2003 Nissan Altima, a 2006 Toyota Camry, a 2010 Fiat, a 2010 Toyota Corolla, a 2007 Volvo tractor-trailer, and a 2002 Freightliner tractor-trailer.
In addition to the victims in the Tahoe, there were five other victims who were transported to area hospitals, all with non-life-threatening injuries.
It took emergency responders hours to get all the victims out of the vehicles, closing the highway down until approximately noon.
Two of the leading causes of car crashes are speeding and distracted driving. Hopefully, investigators will be able to find the answer to what the cause of this multi-vehicle fatal crash was and hold whoever may be responsible for the crash criminally liable.
The families of those killed in this crash, as well as the other victims, may also be able to file civil actions against the driver or drivers who are found to have caused the accident. If you have lost a loved one in an accident, contact an experienced North Carolina wrongful death attorney to find out what legal options your family may have.