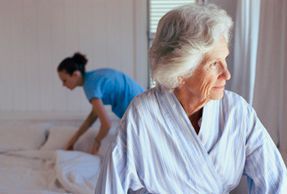 A deadly year at a nursing home in upstate New York led an insurance carrier to drop coverage for the Maplewood Manor. The nursing facility's carrier refused to renew its contract for another year, saying that two suspicious resident deaths and another resident who fell and injured her hip provided the justification for avoiding continuing to do business with the company.
The insurance company said that after two costly lawsuits were filed against the nursing home it no longer made financial sense to continue to insure them. As a result, the nursing home will have to find a new carrier or be forced to go out of business.  One of the incidents that led to the decision to drop coverage was the death of a resident, Carlton Decker, who was found outside the Maplewood Manor home. The 85-year-old who was suffering from dementia, managed to wander away from the facility. Given that the incident occurred in December, investigators believe the cold weather led to his death. According to the insurance carrier, no lawsuit has yet been filed in that case.
In another incident, an 83-year-old resident was given a dose of insulin that was meant for her roommate. The woman, Janice Woodley, died 16 days later. Her husband is now suing the nursing home for wrongful death.  Though it can be costly to provide enough staff to properly supervise patients, that's the job nursing facilities are tasked with. In an effort to maximize profits too many nursing homes skimp on safety protocols and important redundancies, which are necessary to guarantee that deadly mistakes like the ones that occurred at Maplewood, do not happen to other patients.
If you suspect that an elderly loved one has been subjected to nursing home abuse or neglect, time is of the essence. It's critical that you report the matter to the proper authorities right away; after all, the longer you wait the longer your loved one could be suffering.
It's also important that you understand your legal options in pursuing a civil claim for damages. To help with that, consider reading my firm's free report on nursing home abuse and neglect, which contains a discussion of the steps you can take if you suspect a loved one has been abused by the staff at a Virginia nursing home.
If you're worried about possible harm to an elderly loved one, take a moment and read through our library of attorneys' answers to frequently asked questions about nursing home abuse and neglect. The answers to some commonly asked questions can help provide useful background knowledge about the process of filing such elder abuse cases.
CA