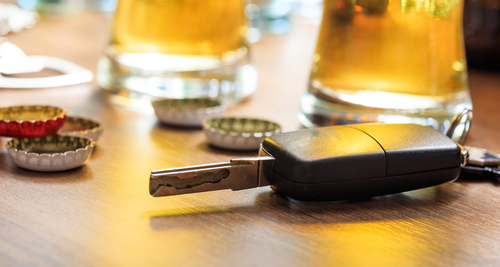 A 44-year-old Charlotte woman was killed when the vehicle she was driving was hit by a drunk driver. The victim's three-year-old son, who was also in the car, was taken to the hospital, but family members report he is physically okay.
According to information released by the Charlotte Police Department, the victim was stopped in the westbound lane of Reagan Drive waiting to turn left onto Ventura Way Drive when a man who was speeding slammed his vehicle into the back of the victim's car. The force of the impact was so severe that first responders had to use the jaws of life to cut the woman out of her vehicle. The woman died at the scene.
The driver of the vehicle that hit the victim's car, a 62-year-old man who police say has a history of drunk driving charges, was transported to the hospital where he was treated for injuries, released, and then arrested. Police charged the driver with felony death by motor vehicle, driving while impaired, driving while license revoked for impaired driving, possession of an open container of an alcoholic beverage, and failure to reduce speed to avoid a collision. The man's license was already suspended for a November 4th drunk driving charge.
Drunk Driving Accidents
According to statistics from the Centers for Disease Control and Prevention, 29 people die every day in this country because of alcohol-related crashes. This comes out to one death every 50 minutes. More than 10,000 people die each year in crashes caused by a drunk driver, accounting for more than 30 percent of all traffic fatalities. The yearly cost of drunk driving crashes is more than $44 billion.
Under North Carolina law, victims of drunk driving accidents can pursue a personal injury claim with the drunk driver's insurance company for the losses they have suffered because of the injuries they sustained in the crash. These losses can include:
Past, present, and future medical expenses, including medications, medical devices, and even the cost of transportation to get back and forth to treatment.
Past, present, and future loss of income from being unable to work. This includes vocational training if the victim can no longer go back to his or her prior profession because of the injuries.
Pain and suffering
Emotional anguish
Loss of life enjoyment
Permanent disability
Scarring
Disfigurement
The victim of a drunk driving accident may also be awarded punitive damages as a way to punish the drunk driver for their egregious behavior.
Tragically, many drunk driving accident victims do not survive these crashes, and families are left without their loved ones. In these cases, the family can file a wrongful death claim against the drunk driver. Families can pursue financial compensation for the medical bills incurred in an attempt to save the victim's life, as well as funeral and burial expenses. A family can also be awarded damages for the loss of income, loss of benefits, and loss of companionship the victim's death has caused.
Let Our Personal Injury Firm Help
Families who have lost loved ones in drunk driving crashes should consider contacting a North Carolina wrongful death attorney to discuss what legal recourse they may have for their pain and loss.
Although nothing will ever make up for the death of a DUI accident victim, Virginia law allows families to seek justice in civil court under the wrongful death statute. This is separate from any criminal charges the driver may be facing.
At Shapiro, Washburn & Sharp, we also offer a free wrongful death guide for families who have lost a loved one in an accident. The guide covers topics such as the statute of limitations for filing a wrongful death claim, what types of damages can be pursued, and who can be appointed as personal representative.
RELATED CONTENT