DISCLAIMER: BELOW ARE REPRESENTATIVE SETTLEMENTS AND VERDICTS.  PLEASE NOTE THAT EVERY CASE IS DIFFERENT.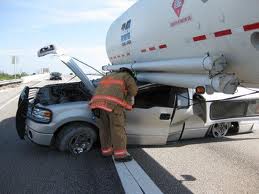 Our team of Virginia truck accident lawyers know a thing or two about large jury verdicts and settlements. Our law firm, along with co-counsel, obtained a record-setting $60 million jury verdict (with post-trial interest included) for a client who suffered a brain injury in a terrible accident. We have also represented numerous clients who suffered catastrophic injuries or death in wrecks involving commercial trucks, big rigs, tractor trailers, commercial shuttles, and/or commercial vans. In many instances, when a smaller vehicle like a sedan, SUV, or pickup truck is hit by a much larger truck, 18-wheeler, or semi, the brunt of the damage is inflicted on the occupant(s) of the smaller vehicle. This is why it is so common for people suffer life-altering personal injuries or death from a car-truck accident. If you or a loved one suffered serious injuries in an accident involving a tractor trailer, you should speak with experienced truck accident attorneys who know how to handle these complex cases and will work to obtain maximum compensation. The list below is an indicator of the level of damages that can be recovered in a truck accident injury or truck accident wrongful death case. The list features some of the largest/biggest jury verdicts and settlements in Virginia. Please note, our firm did not handle all of these cases. We are simply reporting the results. Keep in mind, every truck accident case is different. Simply because you see a case on this list that sounds similar to your case does not mean you will obtain a similar verdict or settlement.
MULTI-MILLION DOLLAR TRUCK ACCIDENT JURY VERDICTS AND SETTLEMENTS IN VIRGINIA
$2.25 million settlement, truck accident wrongful death (learn more about the settlement here)
Virginia truck injury attorney Randy Appleton represented the estate of a truck driver who was killed on Interstate 95 in Virginia. He was struck by another commercial truck driver. Our Virginia trucking attorneys were prepared to prove that the big rig driver who killed our client fell asleep at the wheel and swerved off of the road.  Our client was walking to the rear of his tractor-trailer after having properly pulled his semi onto the shoulder on the side of the interstate to inspect his tractor trailer. Our attorneys chose to file the case in Richmond federal court, not state court, for a larger potential jury pool and a much faster trial date than in Virginia state courts. Exhaustive case preparation and careful strategic choices helped to maximize the recovery, resulting in a very large settlement for the estate and surviving family members, during the litigation and before the trial date.
$21 Million Annuity, $5.5 Million Present Value Truck Brain Injury Settlement
Multi-million dollar structured settlement in traumatic brain injury truck accident case (click here to learn more about the settlement)
Case name: Confidential
Our law firm handled this truck accident brain injury case. Here's what happened – a commercial big rig slammed into the back of a car that was stopped at a stop light. The impact was so severe that a young girl who was sitting in the back of the car suffered serious personal injury – life-altering closed head brain injury. The truck driver claimed he fainted before he hit our clients and the case was defended using a sudden medical emergency defense. Our personal injury trucking law firm fought that defense and worked tirelessly to get our client, and her parents, the restitution deserved to cover a lifetime of medical expense.  The CT scans and MRIs done at the hospital showed the areas of the young girl's brain injured in the wreck began to develop encephalomalacia, also known as cell death. To assess the extent of her brain injuries and help plan her recovery and treatment, the young girl was treated and evaluated by a neuropsychiatrist. Following the evaluation, the neuropsychiatrist warned that as a result of the injuries, our client may develop problems with disinhibition, impulse and aggression control as she matures. Clearly, the damage done to this innocent girl was severe and the parties reached an agreeable settlement during mediation.
$1.8 million settlement, motorcyclist seriously injured by turning truck in Prince William County
A motorcyclist in Prince William County was lawfully stopped on their motorcycle at an intersection. At the same time and place, the operator of a large truck entered the intersection on a green ball turning left without warning. The truck was directly in the path of the motorcyclist. The two vehicles collided and the motorcyclist endured the brunt of the damage. Their bodily injuries included a right testicle rupture, a broken rib, neck surgery and significant lower back pain.
$1.1 million settlement, student hit by tractor-trailer while riding their bicycle (Get the Full Case Report Here)
Case name: Confidential
Our client, a high school senior, departed his high school on a bike and was traveling home when his life was turned upside down by a negligent big rig operator.  He was riding on the shoulder/sidewalk of a one‑way road and needed to cross the entry ramp of the Interstate 85 (I-85) entry ramp.  He looked over his right shoulder and saw large tractor trailers approaching the entry ramp so he stopped, put his foot down at the edge of the shoulder to wait for the trucks to pass and enter the one lane entry ramp.  A tractor trailer driver, who later testified that he saw our client on his bike getting near the end of the elevated sidewalk shoulder, began his left entry turn onto the ramp.  The 18-wheeler driver continued onto the ramp and said he never saw the kid on the bike again and didn't know anything adverse had  happened to him, but he had sideswiped our client and he was violently rolled under the rear left trailer tires.  Our client suffered extensive bodily injuries requiring multiple surgeries. Our firm utilized mediation services and were ultimately able to reach a settlement for the trucking companies policy limits.
$12 million settlement, garbage truck wreck in Fairfax, Virginia
A newspaper carrier was left a quadriplegic after a garbage truck hit his 1990 Jeep Cherokee in Fairfax County. The carrier suffered a fracture of his neck at the C5-C6 level and has no use at all of his arms or legs. The victim recalled that the garbage truck backed suddenly into a street as he was driving at about 20 mile per hour on his newspaper route. The commercial truck driver contended that he backed slowly into the street and stopped a few seconds before the collision so that the carrier had every opportunity to stop. The case was resolved at mediation.
[Note: our firm did not handle this case, we are reporting on the results]
$10.5 million jury verdict, wrongful death tractor-trailer crash
Case name: Isaiah Lester, individually and as Administrator of the Estate of Jessica Lester v. Allied Concrete Company, William Donald Sprouse
Court: Charlottesville Circuit Court
Jessica Lester was a passenger in the Honda driven by her husband, Isaiah Lester. They were headed up to Monticello Mountain towards Charlottesville when they were hit by an Allied Concrete Company truck on a blind turn. The truck was up on two wheels and overturned on their car. Jessica's skull was crushed. She lingered for eight days and eventually died. Isaiah was grief-stricken and developed chronic PTSD. The truck driver was charged with manslaughter and pled guilty. After a 3-day trial, the jury recognized the serious trauma and pain associated with this accident and decided in favor of the plaintiffs.  There were many post-verdicts motions and the case was appealed to the Virginia Supreme Court before it was later settled.
[Note: our firm did not handle this case, we are reporting on the results]
$5.5 million settlement, truck driver injured in facility accident (settled at mediation)
A long haul truck driver was picking up a load when the operator of a tractor trailer rolled over the long haul driver's foot while both were at a loading area. The long haul driver suffered traumatic injuries including a head injury, maxiofacial injuries including LeFort I, II and III fractures, fractured palate, traumatic left eye blindness, facial disfigurement, broken ribs, pneumothorax, and missing teeth.
[Note: our firm did not handle this case, we are reporting on the results]
$3.85 million settlement, dump truck collides head on with sedan (settled at mediation)
A 40-year-old husband and father of three young children, was killed on impact when a dump truck crashed head-on with his vehicle. The driver of the dump truck claimed the other driver drifted out of his lane when he checked his mirror, and then over-corrected, losing control. The victim's estate contended that the dump truck driver had fallen asleep.
[Note: our firm did not handle this case, we are reporting on the results]
$3.5 million settlement, wrongful death truck wreck case (click here to learn more about the settlement)
Case name: Confidential
A tractor-trailer driver rear ended a passenger vehicle on Interstate 64 (I-64) in Norfolk. Our client, a 25-year-old man, was a passenger in a car driven by a friend who was driving slowly after a tire problem. Our client's vehicle caught on fire but our client was unable to escape. He lost his life in the crash. Our truck accident injury attorney team discovered that the tractor-trailer operator violated several safety rules from the Virginia CDL Manual.  We also discovered evidence of poorly controlled diabetes which the trucker had failed to adequately treat prior to the crash by not following doctor's orders and not taking his medication properly. We presented this evidence and were able to arrive at an agreeable settlement. The money recovered will be used to help the victim's only surviving beneficiary, his young daughter.
$2.9 million settlement, driver swerved to avoid oncoming commercial truck resulting in wrongful death
Case name: Klaiber v. Manzur
A driver was killed as a result of a collision that occurred on Route 15 in Leesburg, Virginia. A commercial truck crossed into the oncoming lane of travel on the victim. While there was no contact with the commercial truck, the plaintiff was prepared to prove that the sole proximate cause of the collision was the negligent operation of the commercial vehicle, causing the decedent to swerve to the right to avoid the oncoming truck and thereafter lose control of his vehicle. Suit was filed in Loudoun County Circuit Court, but later resolved via settlement.
[Note: our firm did not handle this case, we are reporting on the results]
$2.75 million settlement, plaintiff suffers traumatic brain injury in accident involving a water truck
A resident of West Virginia suffered a traumatic brain injury in collision involving a water truck. The accident occurred in Harrisonburg, Virginia. As the plaintiff was stopped at a traffic light, her automobile was rear-ended by another vehicle. While the two drivers were waiting for police to arrive, a water truck owned by the City of Harrisonburg, fully loaded with water, did not slow down for the accident and collided with one of the parked vehicles. The force of the impact pushed the parked vehicle up onto the sidewalk and struck the plaintiff.
$2.5 million settlement, truck-scale accident wronful death in Prince William County, Virginia
Case name: Sandra Kurek, Administrator of the Estate of Clayton E. Swope v. East Coast Truck Lines, Inc. and Tim Lunceford
A man was crushed by a tractor trailer that sideswiped his vehicle in a truck-scale by-bass lane on Interstate 95 (I-95) in Prince William County, Virginia.
[Note: our firm did not handle this case, we are reporting on the results]
$2.5 million verdict, truck accident that left a young wrestler severely injured in Southwest Virginia
Case name: Confidential

A 17-year-old honor student, football player and wrestler, was traveling on the highway near Coeburn in Southwest Virginia when his vehicle was knocked over the side of a mountain by a tractor-trailer that crossed the median into his lane. The young plaintiff suffered an array of horrific injuries including a traumatic brain injury, hip fracture, pelvic fracture, and a crushed ankle. He is now permanently disabled and unable to attain gainful employment.
$2.5 million settlement and $160,000 jury verdict, lumber truck drops load directly in front of vehicle in Pittsylvania County
Case name: Driver – confidential; Passenger – Jacqueline Childress v. Gregory Trucking Company Inc.
Two women traveling in the same vehicle were seriously injured when a large truck dropped its load of lumber directly into their path on a rural road in Pittsylvania County.  The driver of the smaller vehicle was seriously injured and had to undergo nine surgical procedures followed by extensive physical therapy and faced the prospect of at least one future surgery. The passenger sustained a fractured shoulder and cracked rib. She underwent surgery on her shoulder and physical therapy. The defendant, a small trucking company based near Chatham, admitted liability.
[Note: our firm did not handle this case, we are reporting on the results]
$2.4 million settlement, car-truck accident resulting in wrongful death (click here to learn more about the settlement)
Case name: confidential
Our client was a passenger in an automobile with his coworker on his way to work. A big rig was approaching from behind. The operator of the commercial truck attempted to change lanes but miscalculated the distance between his truck and the rear of our client's car. The truck operator clipped the rear of the car causing it to flip over, which killed our client, He was survived by his wife of 38 years and his four adult children. The tragic wreck occurred on a rural highway in Virginia.
$1.75 million settlement, half-ton pickup truck and U-Haul truck collision in Albemarle County, Virginia
The injured party was driving home from dinner in a small, half-ton pickup in Albemarle County. She was on a major roadway approaching an intersection. Defendant was driving a U-Haul type truck traveling the opposite direction from plaintiff and attempting to turn left at the intersection. Defendant did not realize he had a red light and turned left directly into the path of the plaintiff causing the collision. Plaintiff suffered serious injuries including a left acetabular fracture, left hip dislocation, multiple pelvic fractures, left knee PCL and LCL tears, comminuted fracture of right humerus, pulmonary embolism, torn right labrum and biceps tendon, and a mild traumatic brain injury (TBI).
[Note: our firm did not handle this case, we are reporting on the results]
$1.6 million settlement, tractor-trailer accident in Richmond, Va.
Case name: confidential
A driver was killed instantly when he was rear-ended by a tractor-trailer in Richmond, Virginia. The victim was 63 years old at the time of the tragic collision. He had two adult children who were the sole beneficiaries under the Wrongful Death Act.
$1.5 million verdict, tractor-trailer crash kills man in Albemarle County
Case name: Estate of White v. Estate of Webster
A truck accident wrongful death action was filed in relation to a tragic multi-vehicle crash that occurred in Albemarle County. A man was driving home from working with cattle on his farm. As he was driving his vehicle west on Route 250, he was hit by an oncoming vehicle that crossed the center line. The decedent's vehicle slowed from this impact, but was then hit by a large tractor-trailer. The man died at the scene. Suit was filed against both the driver of the oncoming vehicle and the driver of the tractor trailer.
$1.2 million settlement, truck accident on Interstate 81 (I-81) in Roanoke
Case name: Parker v. Waste Management of Virginia, Inc., and Greenway
A trash truck came upon a line of slowing traffic on I-81 and was unable to stop. It overturned on plaintiff's vehicle. Plaintiff suffered fractures of the ulna, radius, clavicle,and scapula resulting in Complex Regional Pain Syndrome. These truck accident injuries forced plaintiff to retire from her overseas position as an executive secretary with the U.S. Department of Treasury. The case settled three weeks before trial when plaintiff accepted defendant's offer of judgment.
[Note: our firm did not handle this case, we are reporting on the results]
$1.25 million, wrongful death tractor trailer accident case (settled at arbitration; click here to learn more)
Case name: Confidential (Handled by our Virginia firm, occurred in NC)
Our client was a mechanic who worked for a company with an assigned work truck.  His work truck suddenly became disabled on a rural highway. Our client got out of his truck to inspect what was wrong and was struck by the oncoming vehicle, and pinned to the rear of his work truck.
$1.15 million settlement, car-big rig accident in Staunton on I-64
A tractor trailer accident case was settled for $1.15 million. The accident occurred in Staunton, Virginia. As a result of the collision, the plaintiff suffered permanent brain trauma, fractured ribs and leg, and a cracked collarbone. The accident occurred on Interstate 64 (I-64) and plaintiff's vehicle flipped and rolled during the wreck.
$1 million jury verdict, car-truck accident personal injury case
Case name: Lynch v. Minor & Cox Transportation Services
A man suffered serious injuries to his knee when his vehicle was rear ended by an 18-wheeler tractor trailer that crossed the median on U.S. 1, just south of Ashland, Virginia crashing head-on into the man's vehicle. Even after knee reconstruction surgery, the victim's knee injury affected his ability to return to his job as a painter.
[Note: our firm did not handle this case, we are reporting on the results]
$1 million settlement, truck rollover wrongful death
Case name: Venable v. Pete's Auto Service of Denbigh Inc.
An 85-year-old man took his pickup truck to Pete's Auto Service of Denbigh Inc. in Newport News, Virginia. He contracted with Pete's Auto to perform repairs on his vehicle. Pete's Auto undertook to remove and repair the transmission of the victim's truck. The repairman improperly re-installed the transmission. While on his farm in Hillsville, the victim parked his truck near his home and exited his vehicle after cutting it off. While the victim was extracting a fuel can from the bed of the truck, the truck rolled backwards over him, causing blunt trauma to his chest, pelvis and lower limbs. He died due to complications from the injuries sustained in this unfortunate incident.
[Note: our firm did not handle this case, we are reporting on the results]
$1 million settlement, tractor-trailer overpass accident
The plaintiffs were traveling behind a flatbed tractor-trailer northbound on I-85 when the commercial truck went under a railroad overpass and collided with the top. This collision led to an excavator that was being hauled on the trailer to disattach and collide with the plaintiffs vehicle resulting in serious bodily injuries to the driver and passengers.
$1 million settlement for family who lost two family members in a tractor-trailer collision that occurred on Christmas Eve
This tragic truck accident case involved a grandmother and grandson who lost their lives on Christmas Eve when the operator of an out-of-state tractor-trailer made a left turn into a gas station without observing the victim's vehicle. The case settled after suit was filed without discovery.
$988,782 settlement, tractor-trailer collided with an SUV killing a young mother 
Case name: National Liability & Fire Insurance Co., et. al v. Lawson
Court: Fairfax County Circuit Court
The operator of a tractor-trailer overcorrected when cresting a hill and suddenly came upon slowing traffic. The tractor-trailer operator tried to maneuver between four lanes but wound up striking a guardrail and ultimately colliding with an SUV being operated by a young mother and her boyfriend as a passenger. Unfortunately, the impact was so severe that the mother was declared DOA at the accident scene.
980,000 settlement, car rear ended by cement truck in Williamsburg, Virginia (settled at mediation)
The plaintiff was stopped at a traffic light in a 35 mph zone in Williamsburg when she was rear-ended by a fully loaded cement truck. The cement truck driver failed to slow down in time to avoid a collision after applying brakes and skidding. Testimony indicated the cement truck driver was distracted by a cell phone call. The driver of the smaller vehicle suffered a mild traumatic brain injury.
[Note: our firm did not handle this case, we are reporting on the results]
$550,000 settlement in head-on truck collision 
Our client was a truck driver operating his rig on a four lane highway. Another driver worked for a local car dealership and was delivering a vehicle to a customer.  The defendant driver, traveling in the opposite direction of our client, crossed a grassy median and struck our client's truck head-on at a high rate of speed. The parties voluntarily agreed to mediate the claim which resulted in a $550,000.00 settlement.
$450,000 settlement for woman injured in a collision with a large truck
This case involved an 82-year-old mother, grandmother and caretaker who suffered serious, debilitating injuries when the operator of a commercial truck abruptly turned left in front of the victim's vehicle. The 82-year-old mother suffered multiple injuries, including a cervical C-2 fracture, wrist fracture, mild concussion, severe abdominal and chest bruising.
$420,000 settlement for driver run over by big rig in Chesapeake, Virginia
Our client was a long-distance truck operator who parked his big rig at a business premises. He was walking through the parking area to get a cup of coffee when he was hit by anoher big rig. The operator of the big rig started his vehicle and began to make his way through the parking area black top to leave the premises.  After he pulled forward just a short distance and was turning his rig to the left, he did not see our client and the front right tractor trailer tire entrapped both of our client's legs. The immense weight of the tractor trailer crushed both of our client's legs pinning him. The big rig operator said he felt something so he quickly stopped his 18-wheeler and discovered our client was unable to walk or move and was being tended to by bystanders. Following a scheduled mediation which was actually postponed, we were able to settle this case for the sum of $420,000.00
$410,000 settlement, car-big rig wreck in Virginia Beach, Virgnia resulting in wrongful death (settled at mediation; click here to learn more)
Our client was on his way to work in the early hours of the morning prior to sunrise. During the several hour period prior to his trip, a small amount of rain caused a portion of the highway to become covered with black ice. When our client's vehicle hit this black ice, he lost control and his car went off to the side of the road and rolled over onto its roof. Our client got out of his car, called 911 and began retrieving personal items from his vehicle. At that time, a big rig traveling in the same direction as our client, hit the same patch of black ice and lost control of his truck. It struck our client, killing him immediately. Our client's widow hired our firm to represent his estate. It was our contention that because the defendant driver carried a commercial driver's license, he was under a higher duty of care to other motorists than someone with an ordinary driver's license, based on federal regulations.  We prevailed in overcoming the arguments of due care by relying on the truck driver's higher duties as a commercial trucker.
$350,000 settlement, dump truck rear ended a vehicle in Virginia Beach, VA resulting in a mild traumatic brain injury
The victim was rear-ended by a dump truck in Virginia Beach and suffered life-altering injuries. He was treated for head and neck pain, but the ER failed to diagnose a concussion. Later that week, the victim returned to a differ­ent emergency room complaining of contin­ued headaches and further testing showed that the man had suffered a mild traumatic brain injury. The case was handled in Norfolk Circuit Court.
[Note: our firm did not handle this case, we are reporting on the results]
$350,000 settlement, moped operator hit and killed by logging truck in Richmond
An individual operating a moped was hit by a logging truck while the truck attempted to pass them. The injuries to the moped driver were so severe that they died on the way to the hospital. The investigating state trooper determined the truck driver did nothing wrong and there were no charges. The plaintiff took the position that the truck driver illegally crossed the double yellow lines and was the proximate cause of the collision when the moped driver was making a legal left-hand turn. The defense argued there was no negligence and that the moped driver was contributorily negligent. The case was settled during mediation for $350,000.
Time to Take Action, Free Confidential Consultions
If you or a loved one suffered a serious injury in a collision involving a tractor trailer, big rig, 18-wheeler, etc. you need to take action and contact an experienced Virginia truck accident lawyer. Our firm can help. We accept major truck injury or death cases that meet our criteria throughout the eastern US, including in Virginia Beach, Norfolk, Chesapeake, Newport News, Suffolk, Portsmouth, Williamsburg, Richmond, Fairfax, or the Interstate 81 (I-81) corridor in and around Roanoke and surrounding areas like Glenvar, Hollins, Cave Spring, and Salem, rest assured we have the trucking injury case experience to handle your case. Our team of attorneys have handled truck injury cases on major roads and highways like Interstate 64 (I-64), Interstate 264 (I-264), Interstate 664 (I-664), Interstate 295 (I-295), Interstate 95 (I-95), Interstate 81 (I-81), Interstate 495 (I-495), and so forth. We offer free, confidential, and comprehensive case evaluations to all prospective clients. Contact our office today to speak to one of our truck accident attorneys based in Virginia and North Carolina.
RELATED CONTENT