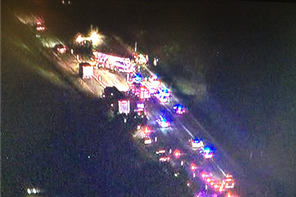 Have you ever been tempted to fit more people in a car than there are seats and seat belts for?  Even if it is just for a quick trip up the street that may be terrible idea.  That's because one out of three car accidents happen within a mile of a motorist's home a survey has shown. 
This seems to be the case in a single car accident that took the life of one and injured six other people including children in Manassas, Virginia (VA).  There were nine people stuffed into a vehicle that can only hold seven at the most.  Behind the wheel of the vehicle was an inexperienced 19-year-old driver.  To make matters worse two of those passengers were children, a 4-year-old boy who suffered significant injuries and another boy, age 6.  Neither of those children were secured properly in a safety seat.  Now the young driver is charged with two counts of felony child neglect and felony injury to the health of a child, one count of reckless driving and one count of failure to secure a child in a safety seat.
This is a huge mess for all involved.  Those with serious injuries including the 4-year-old may need significant care for a lifetime.  The woman killed, Doris Aucapina-Espinoza, (WTOP)  may have been related to the at-fault driver.  That's a terrible burden for a young person to carry around for the rest of their life however she must be held accountable as the victims and their families need compensatory damages. 
Wrongful death and injury claims caused by negligent behavior are often uncharted territory for those grieving or trying to recover from their injuries.  Which is why our wrongful death and car accident injury attorneys guide families through the types of damages available recoverable under state laws.
CT