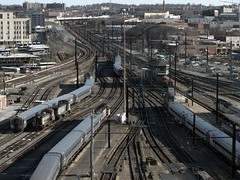 The law most commonly referred to as FELA protects railroad workers who get injured or killed on the job. Employees of freight and passenger railroads engaged in interstate commerce also have the right to file occupational illness claims under FELA. It takes the place of workers' compensation coverage, but FELA claims differ in many ways from workers' comp claims.
Succeeding with a work-related injury, illness or wrongful death claim against a railroad like Amtrak, CSX or Norfolk Southern requires presenting evidence that the harm resulted from the negligence of a railroad's executives, managers or other employees. A claim for monetary damages also exists if the injury, illness or death resulted from a defect in the equipment the railroad supplied to the employee.
LEARN MORE
Depending on the nature, cause and long-term consequences of the harm suffered, the person who files a FELA claim can request compensation and monetary damages for
Past and future medical expenses,
Past and future lost wages,
Physical pain and suffering,
Mental and emotional suffering,
Loss of earning capacity, and
Permanent partial or full disability.
Negligence by a railroad company or its employees typically involves failing to enforce safety rules, failing to replace broken equipment, failing to protect workers from exposures to toxic and cancer-causing substances, or failing to follow best practices. Some finding of negligence by the person who files a FELA claim is possible, but, then, any compensation or monetary damages will then be reduced by the degree of the claimant's failure to protect him or herself. For instance, a finding of 20 percent comparative negligence would reduce a $100,000 FELA award to $80,000.
Importantly, all railroad workers have right under FELA. Engineers, conductors, trackmen, switchmen, machinists and clerks can all file injury or occupational illness claims. When an on-the-job accident kills a railroad employee, the deceased victim's family can pursue a wrongful death claim. The law and related court rulings list family members as a surviving spouse, child, parent or blood relative—"next of kin" in legalese.
Having represented railroad workers and their families in FELA cases since 1985, my Virginia-based personal injury and wrongful death law firm colleagues and I know that rail companies fight FELA claims strenuously. Holding a negligent railroad is possible, though, and worth it to recover financially and protect other workers.
EJL