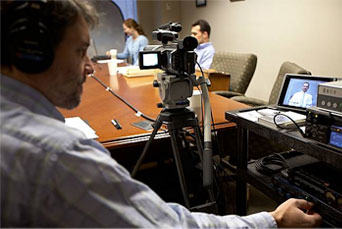 Our VA personal injury law firm has been videotaping the testimony of the decedent's family members to show the impact of the death on the beneficiaries. By carefully preparing and shooting the videos, the injury lawyer can get some very powerful footage of how the wrongful death has impacted the family. The idea is to give the insurance company and the defense lawyer a real taste of how strong, believable and sad the testimony at trial will be in these important cases.
Recently, there was an article by Allen Michaelis, who is the man we use to put together powerful computer and videotape evidence for injury trials, that was published in the Virginia Trial Lawyers Association magazine. This magazine provides training material that goes to all Virginia personal injury lawyers who belong to the organize across the state. In his article, Mr. Michaelis described how Jim Lewis, as a 25 year veteran injury attorney, so effectively used videotape of a family in a wrongful death case where a truck killed a railroad worker on his commute back to serve as a Trackman for CSX.
In this educational piece for the VTLA, the questions used by Jim Lewis were cited to help other injury lawyers develop this powerful testimony. The questions included the following:
1. Here are some photographs. Tell us some of the things that your husband liked to do when he wasn't working.
2. Tell us some of the things that you and your husband enjoyed doing together.
3. Tell me when was the last time you saw your husband.
4. How did you hear about the car crash?
5. Tell us about the funeral.
6. What do you miss most about your husband?
7. If you could see your husband just one more time, what would you say to him?
As you can imagine, the widow telling her story in this way can be extremely powerful. The adult children can also tell more about their dad and little stories about his life. Once edited down to the very best material, such videotaping of lay witnesses can be the difference between getting a reasonable settlement and an extraordinary one in wrongful death and injury cases.